Medtronic Infuse Bone Graft Device Lawsuit
We are no longer accepting Medtronic medical device cases.
A California state court judge ruled in favor of a California resident represented by Baum Hedlund Aristei & Goldman, allowing her lawsuit against Medtronic to move forward. This is good news for patients across the country who received the Medtronic INFUSE® Bone Graft medical device procedure in an off-label manner, not approved by the FDA.
Lawyers Investigate Hospitals Where Spine Surgeries Caused Patients Severe Pain, Excessive Bone Growth and Other Complications
Baum Hedlund's first Infuse case involves back surgery patient, April Cabana, who originally sued Medtronic, in addition to Stryker Biotech, her doctor, and Pomona Valley Hospital Medical Center, on July 13, 2011 after two different medical devices implanted during two different back surgeries resulted in debilitating and permanent injuries to her spine.
Baum Hedlund has Defeated Preemption In Ms. Cabana's Case Three Times
What is Medtronic INFUSE Bone Graft?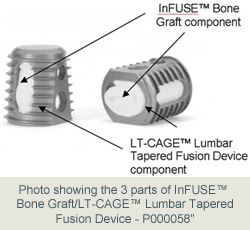 The FDA approved Infuse Bone Graft Device in 2002 for a limited type of spinal fusion surgery to alleviate severe back pain. Infuse Bone Graft Device is a liquid substance produced by a genetically engineered Chinese hamster ovary cell line. It is a recombinant bone morphogenetic protein ("BMP") that is supposed to stimulate controlled bone growth and fuse the vertebrae.
October 31, 2012
The U.S. Senate Finance Committee issued a lengthy report showing that medical device maker Medtronic, Inc. paid doctors hundreds of millions of dollars to manipulate studies and write favorable articles on the company's popular bone graft product, InFUSE. Read More
Trouble for Medtronic INFUSE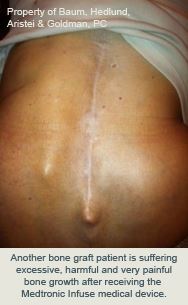 Medtronic has been under scrutiny for years now concerning allegations of illegal off-label promotion and use of Infuse Bone Graft Device, financial conflicts of interest by researchers, under-reporting of complications and overblown reports of superior clinical results. About 85% of Infuse use is off-label according to MedPage Today.
In July of 2011, the prominent medical journal, The Spine Journal, dedicated its entire journal to publishing numerous articles regarding the risks associated with the Infuse Bone Graft Device.
Medtronic paid $85 million in March of 2012 to settle a shareholder lawsuit accusing it of making misleading statements concerning Infuse Bone Graft Device. According to a Reuters report, the settlement resolves claims that Medtronic failed to reveal that as much as 85.2 percent of Infuse sales depended on so-called "off-label" uses, where doctors sometimes paid by Medtronic would prescribe the product for applications not approved by the FDA.
Although the U.S. Department of Justice closed its investigation into Medtronic's marketing and alleged off-label use of Infuse Bone Graft in May of 2012, Senators Charles Grassley (R-Iowa) and Max Baucus (D-Mont.) have investigations pending looking into allegations that Medtronic failed to report Infuse Bone Graft side effects and that the company may have had financial ties to clinical investigators.
Last summer Medtronic commissioned researchers at Yale University with a $2.5M grant to conduct an independent review of the safety and effectiveness of Infuse Bone Graft, including all patient data generated during the Infuse clinical trials. Although Yale stated it would make the results of its review public by summer of 2012, it has yet to do so.
Contact us by filling out the online form.
Pilliod et al. v. Monsanto Co. $2 Billion

Pharmaceutical Settlement $105 Million

Whistleblower Settlement $18 Million

$18 million settlement for Boeing government overcharging on aircraft maintenance

A Major US Plane Crash $17.5 Million

Commercial Truck Accident $15 Million

$15 million settlement for a person gravely injured by a major truck company

Commercial Truck Accident $8.5 Million

$8.5 million wrongful death verdict against food industry company, Tyson Foods
Best Law Firms 2022

A ranking in The U.S. News – Best Lawyers® "Best Law Firms" is widely regarded by both client and legal professionals as a significant honor. It is considered the most reliable, unbiased source of legal referrals anywhere.

The Truck Safety Coalition

Baum Hedlund is proud to be a sponsor of The Truck Safety Coalition, a a group of caring individuals dedicated to reducing the number of deaths and injuries caused by truck-related crashes. Our support enables them to help families and save lives.

California Powerhouse

Law360 recognizes law firms that have a strong regional presence, working on important matters within their home state. "[Baum Hedlund] possesses a David v. Goliath-sized slingshot while seeking justice for everyday citizens it believes were harmed or killed through corporate wrongdoing."

Elite Trial Lawyers

NLJ and American Lawyer Media honor law firms and attorneys as Elite Trial Lawyers for their cutting-edge legal work on behalf of plaintiffs in practice areas ranging from mass torts to securities litigation.

Listed in Best Lawyers

Best Lawyers is the oldest and most respected peer-review publication in the legal profession. A listing in Best Lawyers is widely regarded by both clients and legal professionals as a significant honor, conferred on a lawyer by his or her peers.

AV Top Ranked Law Firm

Less than one-half of one percent of firms across the nation have achieved this ranking. A firm must have a high percentage of lawyers who have achieved the prestigious AV® Preeminent rating by Martindale-Hubbell®.

Verdicts Hall of Fame

The National Law Journal inducted Baum Hedlund into the Verdicts Hall of Fame for obtaining the $2 billion landmark verdict in the Roundup cancer case of Pilliod et al. v. Monsanto. The verdict was #1 in California and #2 in the U.S. in 2019 and is #9 in American history.

Super Lawyers

Super Lawyers is a rating service of outstanding lawyers from more than 70 practice areas who have attained a high-degree of peer recognition and professional achievement.

National Trial Lawyers Top 100

The National Trial Lawyers Top 100 recognized the law firms of Baum Hedlund Aristei & Goldman, the Miller Firm and Audet & Partners with the 2019 Trial Team of the Year award (in the Mass Torts category) for their work in the groundbreaking case of Dewayne "Lee" Johnson v. Monsanto Company.

AV Preeminent Peer Review Rated

An AV® rating reflects an attorney who has reached the heights of professional excellence. The rating signifies the highest legal ability, and very high adherence to professional standards of conduct, ethics, reliability, and diligence.

Avvo 10.0 Rating

Baum Hedlund is proud to have all of its lawyers listed in Avvo, a legal directory connecting people in need of legal services with lawyers and connecting lawyers to lawyers. Eight of our attorneys have earned a 10.0 perfect rating with Avvo.

Board Certified Attorneys

The National Board of Trial Advocacy is one of the nation's largest and oldest private board-certification organizations for attorneys. Two of our shareholders are certified in multiple specialties.

Top Jury Verdict in
CA and USA

TopVerdict.com ranks our $2 billion verdict in Pilliod et al. v. Monsanto as the biggest verdict in California and the second largest verdict in the U.S. in 2019. It is the ninth largest verdict in U.S. history.

Lawdragon 500 Leading Plaintiff Consumer Lawyers

Published annually, the Lawdragon 500 Leading Plaintiff Consumer Lawyers list recognizes the "best of the best" in this area of the law through nominations, research, and review by a board of their peers.

Multi-Million Dollar Advocates Forum

Multi-Million Dollar Advocates Forum is one of the most prestigious groups of trial lawyers in the United States.  Membership is limited to attorneys who have won million and multi-million-dollar verdicts and settlements.

Product Liability Practice Group of the Year

In 2020, Law360 honored the law firms "behind the litigation wins and major deals that resonated throughout the legal industry." It recognized our success in several landmark cases.

Top Personal Injury Jury Verdict in California

In 2018, our $289 million Johnson v. Monsanto verdict was the largest personal injury verdict in California. TopVerdict.com also ranked it #2 among all verdicts in California and #10 in the nation.

Bar Register of Preeminent Lawyers

The Bar Register is the definitive guide to the most distinguished law firms in America. It includes only those select law practices that have earned the highest rating in the Martindale-Hubbell Law Directory and have been designated by their colleagues as preeminent in their field.

Rated AV Preeminent for 31 Years
Firm Reviews
What Our Clients Are Saying
I Can't Imagine a Better Law Firm - Best Law Firms Survey

They Are About Changing the Systems... - Kim Witczak

Top Legal Minds in the Country - From Best Lawyers® Best Law Firms

Diligent & Professional Representation - W.T.

Our Best Interest Was Always Number One on Your List - G.C. & C.C