Bio
AVVO Superb Score 10 out of 10 | AV Preeminent Peer Review Rated
Michael L. Baum is the senior managing shareholder of Baum Hedlund Aristei & Goldman. He has successfully led the firm through thousands of wrongful death and personal injury cases stemming from major pharmaceutical drug catastrophes, harmful consumer products, and commercial transportation mass disasters.
He began his career more than 30 years ago, primarily handling airline accidents and other commercial transportation disasters as well as some pharmaceutical product liability litigation. While he oversees all aspects of managing the firm, Michael directs all of the firm's mass tort litigation, including defective or harmful pharmaceutical drugs, medical devices, herbicides, and consumer products. He also oversees our class actions and whistleblower qui-tam actions.
"Some of our staff were friends long before they started working here and they remain friends after almost three decades of working together. They actually like each other and enjoy making a difference in the lives of others. One of my favorite quotes, which I like to recite to my staff, sums up the work environment we've created at the firm: 'In every job that must be done, there is an element of fun. You find the fun, and – SNAP – the job's a game!'"
Michael Baum's law firm has exposed serious consumer health hazards from products including #pesticides and some #antidepressants: https://t.co/OAqJrS3ihb @baumhedlund #lawyerlimelight #lawyers #legalnews

— Lawdragon (@lawdragon_news) July 26, 2021
Award-Winning Pharmaceutical Litigation Team
Under Michael's leadership, Baum Hedlund has developed a reputation as a law firm that can be counted upon to go above and beyond what is needed to get the job done, a firm that has successfully litigated personal injury, wrongful death and consumer fraud cases against major pharmaceutical companies such as Alpha Therapeutic, Armour Pharmaceutical Co., Baxter Health Care Corp, Bayer Corp., Dalkon Corporation, Eli Lilly, Forest Labs, GlaxoSmithKline, and Pfizer.
In 1999, Michael served on the trial team in the only Hemophiliac AIDS case to go before a jury. Michael and the trial team represented Leo and Shirley Dixon, whose son, Ken Dixon, contracted the HIV virus and AIDS allegedly as a result of using hemophilia medication contaminated with HIV.
Evidence presented at trial showed the medication Ken Dixon used was plasma‑derived medication contaminated from the use of high-risk donors with the HIV virus. The jurors found that two of the medication manufacturers, Cutter Biological and Alpha Therapeutics, were strictly liable for product liability, negligence, and fraud. The jurors further found that after Ken Dixon initially was infected with the AIDS virus (which was not known to him at the time), the continued use of the contaminated products further aggravated Ken's condition, exacerbating and accelerating the development of AIDS. The jury awarded Leo and Shirley Dixon $35.3 million in survival and wrongful death damages. Although the judge overturned the verdict based on a technical issue, the verdict provided essential justice for not only the Dixon family but for hemophiliacs across the country who have suffered and died as a result of their HIV-infected medication.
Fast-forward twenty years later, to find Michael continuing to fight for those injured by Big Pharma products. The National Law Journal recognized Michael and his team as 2018 Elite Trial Lawyers and Pharmaceutical Litigation first place winners for their unprecedented jury verdict against a brand-name drug manufacturer (GSK) for the wrongful death of a man who took a generic form of Paxil.
Groundbreaking Verdicts in Monsanto Roundup Litigation
Michael served on the trial team for three of the first Monsanto Roundup lawsuits to go before juries. In the first trial, Michael and a team of lawyers represented Dewayne "Lee" Johnson, a Benicia, California school district groundskeeper, who alleged exposure to Monsanto herbicides caused him to develop terminal non-Hodgkin lymphoma. A jury in San Francisco unanimously awarded Mr. Johnson $289M in compensatory and punitive damages, finding that Monsanto acted with malice, oppression, or fraud.
In the wake of this groundbreaking verdict, The National Trial Lawyers Top 100 recognized Michael and his team as the 2019 Trial Team of the Year in the Mass Torts category.
The second Roundup lawsuit to proceed to trial, Hardeman v. Monsanto Company, resulted in an $80 million jury verdict. In May of 2019, the third Roundup cancer trial culminated in a historic $2.055 billion verdict in favor of a Bay Area couple who alleged years of exposure to Roundup weed killer caused them to develop non-Hodgkin lymphoma. The Pilliod verdict was the largest verdict in California and the second largest in the U.S. in 2019. It is also the ninth largest verdict in U.S. history. The Pilliod trial team has received numerous awards and accolades following this landmark verdict, including 2020 Elite Trial Lawyers Mass Tort Law Firm of the Year Finalist, Top 100 Verdicts 2019 by ALM and the National Law Journal and Daily Journal Top Verdicts 2019.
Holding Companies Responsible for Aviation Disasters
In addition, his firm is known for successfully resolving major transportation disaster cases against companies such as Airbus, Alaska Airlines, American Airlines, Amtrak, Bell Helicopter Co., Beechcraft, Boeing, Cessna, China Eastern Airlines, Continental Airlines, Delta Airlines, EgyptAir, Ford Motor Co., McDonnell Douglas, Piper, Robinson Helicopter Co., Sikorsky, SwissAir, TACA Airlines, TWA, United Airlines, and US Airways, among many others.
As part of the plaintiffs' trial team for families who lost loved ones in the United 232 Sioux City, Iowa, crash, Michael found the smoking gun document that showed General Electric's engineers' graphs predicting the next DC 10 engine failure, which happened to be the date of the United 232 crash five years later.
"Rigorously investigating and litigating the types of devastating cases we handle on a daily basis requires relentless focus and dedication to our clients' causes. Approaching things from the perspective that every problem has an optimum solution waiting to be apprehended simplifies our team's outlook on every aspect of each case we handle."
5 people putting pesticides on the agenda - CHANGEMAKERS: AGRICULTURE AND FOOD - #Glyphosate may be a hot topic in Europe, but the U.S. is where the real action is. Los Angeles-based lawyer #BaumHedlundLaw Michael Baum has so far ... https://t.co/rTdL68ZP2S @POLITICOEurope pic.twitter.com/eA3yxOBbqq

— Baum Hedlund Law (@baumhedlund) February 27, 2020
Influencing Public Policy
Michael was invited to speak before governmental and regulatory entities on several occasions concerning serious health hazards exposed, in part, due to his firm's litigation. He testified in Brussels at a public hearing before the European Parliament's Special Committee Hearing on the EU's authorization procedure for pesticides (PEST), concerning environment impacts of pesticides, including Monsanto's Roundup weed killer. He and Robert F. Kennedy, Jr. delivered the keynote address to members of the European Green Party at the start of their pesticides hearing during that same trip. He and his partner, R. Brent Wisner, also briefed members of Parliament of Canada's Green Party about the first Roundup cancer verdict we helped obtain, as well as the evidence we presented at that trial. As a result of his groundbreaking work on the Monsanto Roundup cases, Politico EU chose Michael as one of five "changemakers" in the world making waves in pesticides policy.
Medical officials from foreign governments in countries such as Ireland, Japan, Russia, and Taiwan have sought Michael's advice and assistance with their countries' public policies concerning consumer drug safety. They've done so after becoming aware of Michael's impressive understanding of biomedical research, clinical trials, statistics, the pharmaceutical industry and marketing, as well as his firm's successful and effective discovery procedures and extensive work with experts on complicated scientific issues related to Baum Hedlund's pharmaceutical litigation.
Career Highlights
Among his many achievements, accomplished with the help of his team, Michael is most proud of:
His firm's historic $289M and the $2B Roundup cancer verdicts against Monsanto (now Bayer) and the firm's release of The Monsanto Papers;
Being recognized, along with his firm, as a national leader in the antidepressant Paxil, Prozac, and Zoloft suicide litigation;
Working to bring about the black box suicidality warning for children and young adults, now on most antidepressant labels;
Helping spur funding for the Ricky Ray Hemophilia Relief Fund Act of 1998, which was made part of the negotiated settlement to help scores of hemophiliacs infected with HIV by contaminated medication;
Arranging for the face-to-face presentation between pharmaceutical company executives and dozens of hemophiliac families that got to say, person by person, holding before and after photos of themselves or departed loved ones, how the hemophilia-AIDS epidemic, and the manner in which the companies caused and covered it up, impacted their lives;
Being one of the leaders in the fight against federal preemption, a doctrine pushed by the pharmaceutical industry to wipe out consumers' rights to sue drug companies for injuries caused by their drugs (Preemption was finally defeated in 2009 with the Supreme Court's ruling in Wyeth v. Levine);
Creating the first class action ever filed against an SSRI-antidepressant manufacturer, ending with the successful resolution of more than 3,000 Paxil injury cases;
Finding "needles in haystacks" and "smoking guns" in document productions, such as GE engineers' graphs predicting the next DC 10 engine failure which mirrored the date of the United 232 crash five years later, an internal study linking SSRIs to cardio birth defects, or documentation of company programs to ghostwrite medical journal articles for academic opinion leaders to give the appearance of objective science when actually serving marketing objectives to increase prescriptions, i.e. disguised advertising;
Negotiating the first official public apology by an airline for the 2003 Air Midwest Flt. 5481 Charlotte, North Carolina crash;
Eliminating California law that protected tobacco companies from lawsuits. For many years, the statute of limitations was considered to begin to run from the date the plaintiff knew or should have known that he/she was addicted to tobacco. This effectively barred plaintiffs, many of whom began smoking in their teens, from suing. Now, the statute of limitations runs when the plaintiff's physical injuries are (or reasonably could be) discovered;
Developing a rigorous, skillful, and technical method for locating hard-to-find manufacturer documents in order to successfully litigate against major pharmaceutical companies, positioning his firm as a leader in the fight to increase public health and safety;
Creating coalitions of activists, attorneys, and Baum Hedlund staff, who work together to resolve global problems caused by harmful and defective drugs, which no individual could accomplish alone.
"We have adopted Margaret Mead's philosophy, 'Never doubt that a small group of thoughtful, committed citizens can change the world. Indeed, it is the only thing that ever has.'"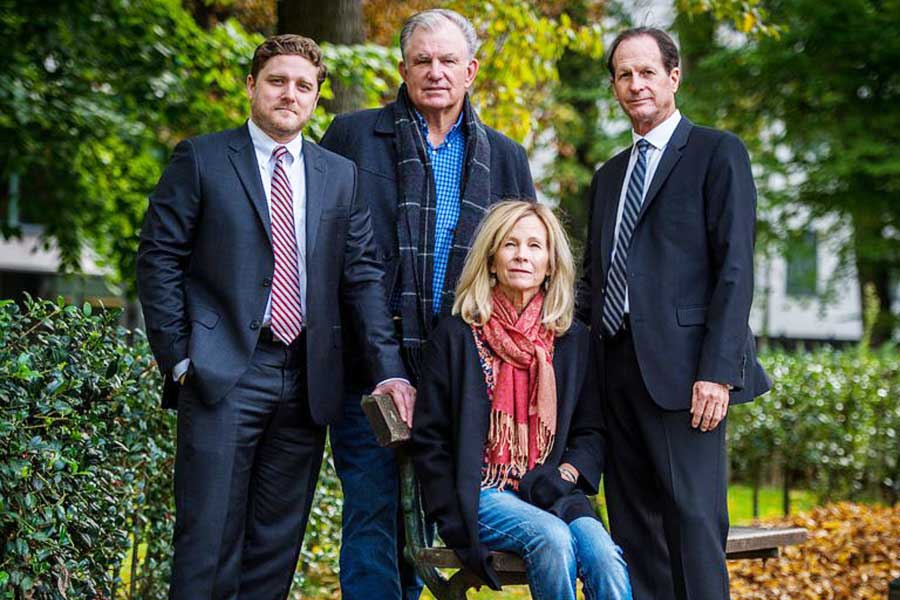 Featured in the New York Times – Attorneys Brent Wisner and Michael Baum in Brussels with clients John Barton and Teri McCall before important EU glyphosate vote, bringing a face to the Roundup lawsuits and to focus on the Monsanto Papers.
Michael has served on numerous trial teams and plaintiffs' steering committees in mass tort litigation involving pharmaceutical product liability cases as well as major airline crashes.
He has earned an AV® 5.0 out of 5 Peer Review Rating through Martindale Hubbell, an Avvo Superb Score of 10, and is recognized in The National Trial Lawyers Top 100, Lawdragon 500 Leading Plaintiff Consumer Lawyer, The Best Lawyers in America®, Bar Register of Preeminent Lawyers, and Southern California Super Lawyers.
In his spare time, Michael enjoys spending time with his family, playing foosball, softball, volleyball, and boogie boarding.
Practice Areas
Prescription Drugs

Pharmaceutical Drug Product Liability

Class Action Litigation
Complex and Multi-District Litigation
Consumer Fraud Litigation
Toxic Torts
Education
University of California, Los Angeles (B.A., summa cum laude, 1982)
University of California, Los Angeles, School of Law (J.D., 1985)
Court Admissions
The District of Columbia Court of Appeals, 1983
California, 1985
U.S. District Court, Central District of California, 1986
U.S. District Court, Eastern District of California, 1989
U.S. District Court, Northern District of California, 1989
U.S. Court of Appeals, Ninth Circuit, 1990
U.S. District Court, Western District of Michigan, 1991
U.S. Supreme Court, 1991
District of Columbia, 1993
U.S. District Court, Northern District of Ohio, 1993
U.S. Court of Appeals, Fourth Circuit, 1996
U.S. District Court, Northern District of New York, 1996
U.S. Court of Appeals, Seventh Circuit, 1997
U.S. District Court for the Southern District of California, 1999
U.S. District Court, Western District of New York, 2009
U.S. District Court, Eastern District of Wisconsin, 2009
U.S. Court of Appeals, First Circuit, 2013
Awards and Honors
2020 Mass Torts Elite Trial Law Firm of the Year, Finalist, ALM and National Law Journal
Lawdragon 500 Leading Plaintiff Consumer Lawyer, 2019, 2020, 2021
California Power House, Law360 Regional Powerhouse Series, 2021
Verdicts Hall of Fame Inductee, The National Law Journal and VerdictSearch
2019 Elite Trial Lawyers Mass Torts Trial Team of the Year, The National Law Journal and The Trial Lawyer Magazine
Top 100: 2019 Southern California Super Lawyers
Trial Team of the Year 2019, The National Trial Lawyers Top 100

Number 1 Verdict in California in 2019, Topverdict.com(Pilliod et al. v. Monsanto Co.)
Top 10 Verdicts in California in 2019, Topverdict.com(Pilliod et al. v. Monsanto Co.)

Number 1 Product Liability Verdict in California in 2018, Topverdict.com (Johnson v. Monsanto Co.)
Top 10 Personal Injury Verdicts in the U.S. in 2018, Topverdict.com(Johnson v. Monsanto Co.)
Top 100 Verdicts 2018, ALM, National Law Journal, Verdict Search (Johnson v. Monsanto Co.)
Top 10 Product Liability Verdicts in Illinois in 2017, Topverdict.com (Dolin v. GSK)
Top 100 Product Liability Verdicts in the U.S. in 2017, Topverdict.com (Dolin v. GSK)
The Best Lawyers in America® 2016 – 2022 (Copyright by Woodward/White, Inc., of Aiken, SC)
Selected to: Southern California Super Lawyers® 2005, 2012 – 2021
Listed, The Bar Register of Preeminent Lawyers™
Aviation Counsel Magazine's List of Recommended High Flyers, believed by the International Air Transport Association's Legal Dept. to be one of the most elite lists of aviation law practitioners ever produced
National Air Disaster Foundation Safety Award, 2002
Litigation Leadership
Trial Team Member, Pilliod et al., vs Monsanto Company (3rd Roundup cancer verdict $2.055 billion), Oakland, California, 2019
Trial Team Member, Hardeman vs Monsanto Company (2nd Roundup cancer lawsuit trial), San Francisco, California, 2019
Trial Team Member, Dewayne "Lee" Johnson vs Monsanto Company (1st Roundup cancer verdict $289.2 million), San Francisco, California, 2018
Trial Team Member, Wendy B. Dolin vs GlaxoSmithKline LLC (generic Paxil suicide lawsuit), Chicago, Illinois, 2017
Plaintiffs' Executive Committee, MDL-2741, In Re: Roundup Products Liability Litigation (U.S. District Court for the Northern District of California), 2016-present
Plaintiffs' Steering Committee, Judicial Council Coordinated Proceedings (JCCP 4696) In re Actos Product Liability Cases, Los Angeles, California, 2012 – 2020
Plaintiffs' Steering Committee, MDL-1574, Paxil Products Liability Litigation
Trial Team Member, Consolidated Hemophilia-AIDS Cases, New Orleans, Louisiana, 1999
Lead Counsel for 125 Consolidated Complex Biological-Medical Products Liability Cases, New Orleans, Louisiana, 1997-2001
Plaintiffs' Steering Committee, Illinois State Court Proceedings for USAir 427 Aircrash near Aliquippa, Pennsylvania, 1994
Trial Team Member, 1997, USAir 1016 Aircrash of Charlotte, North Carolina, 1994
Plaintiffs' Steering Committee, MDL 1041, USAir 1016 Aircrash of Charlotte, North Carolina, 1994
Plaintiffs' Steering Committee, MDL 891, Northwest Airlines Flight 255 Crash, Romulus, Michigan, 1990
Trial Team Member, 1991-1992, United Airlines Flight 232 Crash, Sioux City, Iowa, 1989
Plaintiffs' Steering Committee, MDL 817, United Airlines Flight 232 Crash, Sioux City, Iowa, 1989
Member
State Bar of California
The District of Columbia Bar
Consumer Attorneys of California
Consumer Attorneys Association of Los Angeles
San Francisco Trial Lawyers Association
American Association for Justice: Leader's Forum
Presentations / Speeches
Topic: Autism in the Age of COVID-19 -Toxic Baby Foods and Autism

Organization: AutismOne

Event: AutismOne Conference 2021

Location: Newbury Park / Thousand Oaks, California

Date: September 2-4, 2021

Topic: A Discussion About Drug Safety & Legal Advocacy

Organizations: Medicating Normal & Malpractice Diaries

Event: Panel Discussion on YouTube

Location: YouTube Link

Date: October 19, 2020
Topic: Monsanto Roundup Herbicide Litigation, $289M Jury Verdict & Future Cases

Organization: Mass Torts Made Perfect

Event: MTMP Fall Conference

Location: Las Vegas, Nevada

Date: October 3, 2018
Topic: "Disease Mongering and Scientific Misconduct"

Organization: Santa Monica College

Department: Visiting Lecturer in the Department of Philosophy and Social Sciences

Location: Santa Monica, California

Date: December 8, 2014
Topic: Actos Bladder Cancer Litigation Status Update

Panel Topic: Mass Torts: Status Update On Drug And Medical Device Litigation

Organization: Consumer Attorneys of California

Event: CAOC 52nd Annual Convention

Location: San Francisco, California

Date: November 14-17, 2013
Topic: Litigation Update and Trial Analysis Roundtable: "Actos Trial Analysis"

Organization: AAJ Plaintiff Trial Lawyers and presented with Mass Torts Made Perfect

Event: AAJ Education's Plaintiff-Only Pharmaceuticals and Medical Device Litigation Update Seminar

Location: Louisville, Kentucky

Date: May 28 – 29, 2013
Topic: "Case Theories, Challenges and Case Selection Considerations for Your Actos Inventory"

Organization: HB Litigation Conferences

Event: Plaintiff Forum on Pharmaceutical Litigation, Transvaginal Mesh, Actos, and Orthopedic Devices

Location: Philadelphia, Pennsylvania

Date: October 5, 2012
Governmental Testimony
Briefing before Parliament of Canada's Green Party of Canada about the $289M Monsanto Roundup cancer verdict and the Monsanto Papers at Parliament Hill, Ottawa, January 30, 2019
European Parliament's Special Committee Hearing on the EU's authorization procedure for pesticides (PEST), Public Hearing on" Environmental Impacts of Pesticides, including Mitigation Measures at Member State Level" and "Stakeholders Recommendations on the Current EU Regulation on the Approval of PPP" at Brussels, Belgium, September 6, 2018
Keynote address to European Green Party, Greens Complimentary Hearing on Pesticides on the consequential effects that pesticides have on human health and the environment at Brussels, Belgium, September 5, 2018
Taiwan's Ministry of Health emergency meeting regarding hemophilia HIV contaminated medication, February 18, 2004
Published Cases
Dorsett v. Sandoz, Inc., 699 F.Supp.2d 1142 (C.D.Cal. 2010) (denying defendants' preemption motion and holding that both name-brand and generic drug manufacturers have an affirmative duty to issue warnings)

Mason v. SmithKline Beecham Corp., 596 F.3d 387 (7th Cir. 2010) (unanimously reversing the trial court's preemption ruling and allowing plaintiffs' claims to proceed to a trial on the merits)

Collins v. SmithKline Beecham Corp., 2008 WL 744070 (Pa. Ct.Com.Pl. March 11, 2008)

Grisham v. Philip Morris USA, 482 F. 3d 1131 (9th Cir. 2007)

Grisham v. Philip Morris USA, 40 Cal.4th 623, 151 P.3d 1151, 54 Cal.Rptr.3d 735 (2007)

Grisham v. Philip Morris USA, 403 F. 3d 631 (9th Cir. 2005)

Smith v. Cutter Biological, 770 So. 2d 392 (La. App. 4th Cir. 2000)

In re Air Crash at Charlotte, N.C. on July 2, 1994, 982 F.Supp. 1092 (Dist. South Carolina 1997)

In re Air Crash at Charlotte, N.C. on July 2, 1994, 982 F.Supp. 1086 (Dist. South Carolina 1997)

In re Air Crash at Charlotte, N.C. on July 2, 1994, 982 F.Supp. 1084 (Dist. South Carolina 1997)

Ex parte Knight Ridder, Inc., 982 F.Supp. 1080 (Dist. South Carolina 1997)

In re Air Crash at Charlotte, N.C. on July 2, 1994, 982 F.Supp. 1071 (Dist. South Carolina 1995)

In re Air Crash at Charlotte, N.C. on July 2, 1994, 982 F.Supp. 1060 (Dist. South Carolina 1996)

In re Air Crash at Charlotte, N.C. on July 2, 1994, 982 F.Supp. 1056 (Dist. South Carolina 1996)

In re Air Crash at Charlotte, N.C. on July 2, 1994, 982 F.Supp. 1052 (Dist. South Carolina 1995)
Notable Media Appearances
TV
Primetime RTE Dublin – RTE News
PrimeTime Channel 2 Action News Los Angeles
CNN Headline News
Documentaries
Wie BAYER AIDS nach Asien importierte" (Deadly Sale: How Bayer imported AIDS into Asia)
Who Cares in Sweden? A Documentary Trilogy [Antidepressants' effect on society]
News
Agence France-Presse
AIDS Weekly & Law
American Lawyer Magazine
Andrews Litigation Reporters
Antitrust Law Daily
Associated Press
AsiaOne
Bloomberg News
Brisbane Times
Chicago Daily Law Bulletin
Class Action Reporter
Forbes
Jakarta Globe
Los Angeles Times
Law 360
Law.com
Life Science Weekly via NewsRx.com & NewsRx.net
Mealey's Emerging Drugs & Devices
Mealey's Litigation Report Antidepressant Drugs
Mealey's Litigation Report: Tobacco
MSN Malaysia News, MSN Philippines News, MSN Singapore
National Law Journal
New York Times
Pharmalot
PharmAsia News
Reuters Legal
San Diego Union-Tribune
San Jose Mercury News
South China Morning Post
Star Tribune
Taipei Times
Taiwan News
The Legal Intelligencer
The Pink Sheet
The Sydney Morning Herald
Thomson Reuters News & Insight
Westlaw Journals
Theheart.org
35+ Years of Experience

Best Lawyers - Michael L. Baum

AV Preeminent Rating

Law360 California Powerhouse

Elite Trial Lawyers

Verdicts Hall of Fame

Law360 Product Liability Practice Group of the Year

The National Top 100 Trial Lawyers

Number 1 Jury Verdicts

Top 10 Jury Verdicts

Super Lawyers Top 100

Super Lawyers - Michael L. Baum

Avvo 10.0 Rating

Lawdragon 500 Leading Plaintiff Consumer Lawyers

Aviation Counsel High Flyers

The Bar Register of Preeminent Lawyers

Leaders Forum - Patron