Bio
AVVO Superb Score 10 out of 10
R. Brent Wisner is an attorney and senior shareholder in the Los Angeles office of Baum Hedlund Aristei & Goldman. A Los Angeles native, Brent is driven by a deep-rooted passion for using the law to help those who have been marginalized and hurt by large, and sometimes malicious, corporations. Brent has dedicated his practice to vindicating his client's rights and holding wrongdoers accountable. He concentrates his practice on pharmaceutical class action litigation, toxic-tort injuries, and consumer fraud litigation.
Brent is one of Baum Hedlund's lead trial attorneys and manages a highly-trained team of attorneys on all aspects of the cases in his department. He takes pride in personally working up all facets of litigation—from briefing, expert discovery, through trial and, if needed, appeal. After obtaining two landmark verdicts against Monsanto, he has been showered with major awards and recognition. He is the youngest attorney to ever obtain a multi-billion-dollar verdict.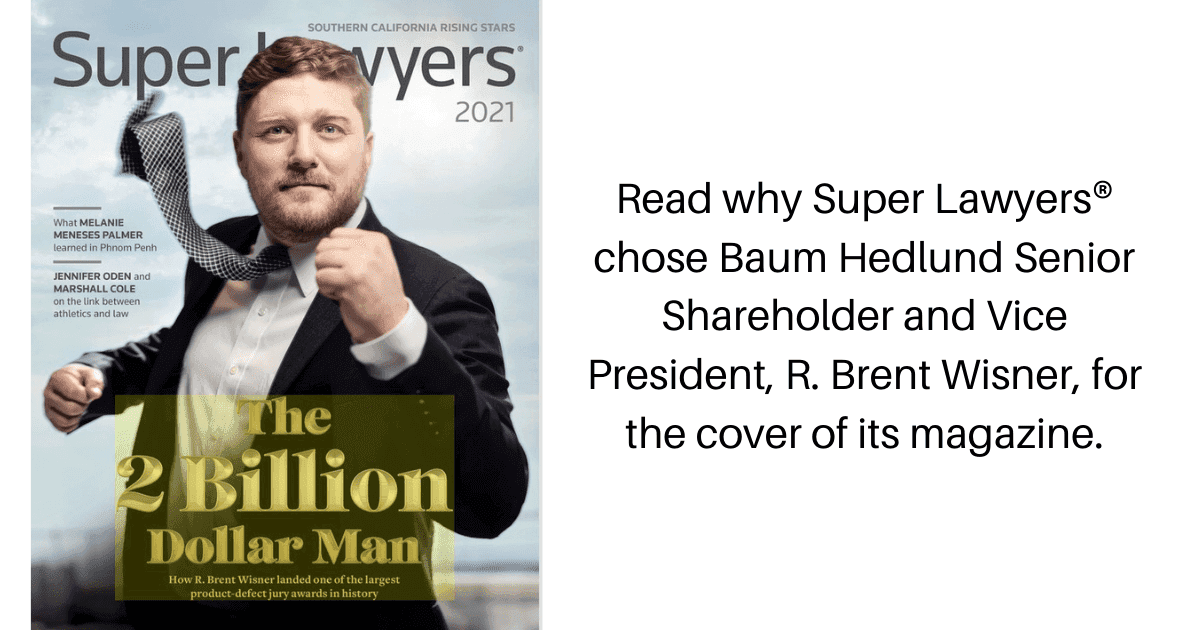 Pharmaceutical Litigation
Law360 named Mr. Wisner a "Titan of the Plaintiffs Bar" for, in part, his role as co-lead counsel in a complex trial that resulted in the first multi-million-dollar jury verdict against a brand-name drug-maker, GSK, holding it liable for injuries caused by a generic version of the drug Paxil. The case has been described as groundbreaking and likely to shape the landscape of pharmaceutical litigation for years to come. Also, because of this cutting-edge verdict, The National Law Journal recognized Brent and the firm as 2018 Elite Trial Lawyers and the first place winner in the category of Pharmaceutical Litigation.
One of the Leading Zantac Lawyers in the Country
In 2019, Brent and his colleagues filed lawsuits against the manufacturers of Zantac (ranitidine) alleging the popular heartburn medication contains a cancer-causing chemical (NDMA) at levels over 3,000 times greater than the FDA's legal limit. The lawsuits were among the first of what will likely be many thousands. "Based on recent scientific findings, the levels of NDMA in Zantac are staggering," says Wisner. "Considering how many people took Zantac in the U.S. since 1983, we are staring into the face of a public health crisis, and these defendants—in particular GSK and Pfizer—are to blame."
The judge overseeing the multidistrict litigation (MDL No. 2924, where all of the cases filed in federal courts are consolidated) appointed Brent to the Practices and Procedures Team to help establish the protocols and methodology for litigating tens of thousands of cases in the years to come.
Brent also serves as Co-lead Plaintiffs' Liaison Counsel for the Ranitidine Product Cases, also known as the Ranitidine (Zantac) Judicial Council Coordinated Proceedings (JCCP 5150), California Superior Court for the County of Alameda. He is also Co-Chair of the Zantac Litigation Group for AAJ – American Association for Justice.
Brent's Appearances Discussing the Zantac Litigation
Zantac Census Plus, Mass Torts Made Perfect Connect webinar, Apr. 2020
Zantac: A Major Health Crisis, Mass Torts Made Perfect Connect webinar, Mar. 2020
Zantac Litigation, Master of Mass Tort Conference, Feb. 2020
Status of the Zantac Litigation, American Association of Justice webinar, Jan. 2020
Zantac: Diving into the Science – Harris Martin MDL Conf., Jan. 2020
The Science: NDMA, Ranitidine, and the Risk of Cancer – Harris Martin's Zantac Litigation Conference, Jan. 2020
Key New Mass Torts: Zantac – Harris Martin Multi-district Litigation Conf., Dec. 2019
Zantac Attack: Over the Counter Carcinogen – Mass Torts Made Perfect Conf., Oct. 2019
Brent Wisner Roundup Cancer Lawyer
Brent Wisner served on all the trial teams for the first three Monsanto Roundup trials. He served as co-lead trial counsel in two of the first three cases, delivering the opening and closing arguments, and cross-examining many of Monsanto's corporate witnesses.
Brent Wisner in Monsanto Roundup Litigation:
The juries in the first three trials found that exposure to Monsanto's Roundup weed killer caused the plaintiffs to develop non-Hodgkin lymphoma, awarding more than $2.424 billion in total damages.
Brent also holds a judge-appointed leadership role as administrator and co-lead counsel for the Roundup Judicial Council Coordination Proceedings (JCCP), which consists of hundreds of Roundup cases consolidated before the California Superior Court for the County of Alameda (state court). He also serves as Liaison Counsel to the Federal MDL-2741 (multi-district litigation) In Re: Roundup Products Liability Litigation for Roundup JCCP 4953 Alameda County.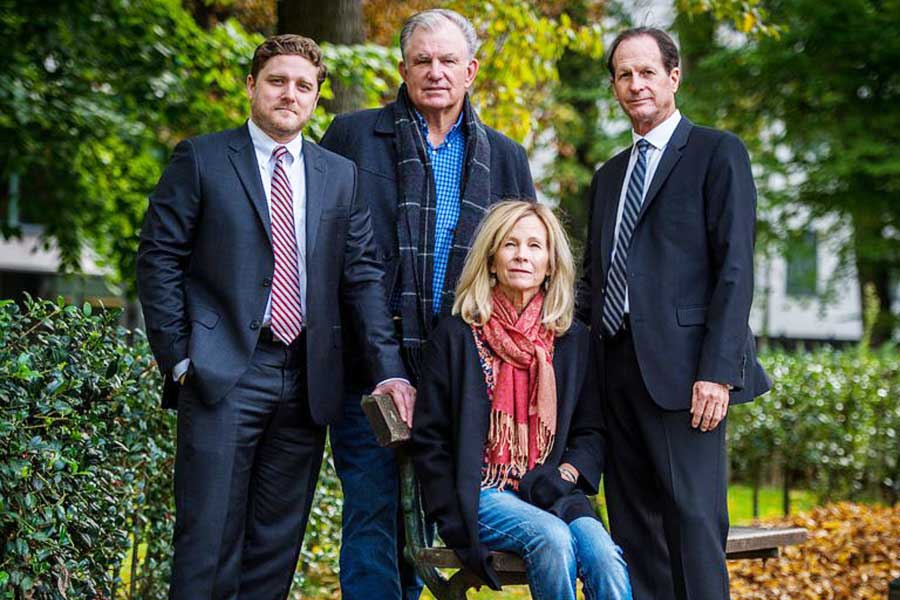 Featured in the New York Times – Attorneys Brent Wisner and Michael Baum in Brussels with clients John Barton and Teri McCall before important EU glyphosate vote, bringing a face to the Roundup lawsuits and to focus on the Monsanto Papers.
Following the groundbreaking verdicts in the Monsanto trials, Brent has been honored with numerous awards and accolades in recognition of his skill in the courtroom:
MVP of the Year 2020, Product Liability, Law360
Top 100 Lawyers in California 2020, Daily Journal
Top Plaintiffs Lawyers in California, 2020, Daily Journal
2019 Civil Plaintiff Trial Lawyer of the Year, National Trial Lawyers and ALM
Winning Litigators Titans of Industry, 2019, National Law Journal
Top 100 Verdicts 2019, ALM, National Law Journal, Verdict Search (Pilliod et al. v. Monsanto Co.)
Top 40 Under 40 Attorneys in California 2019, Daily Journal (Lifetime Award)
Number 1 Verdict in California in 2019, Topverdict.com (Pilliod et al. v. Monsanto Co.)
Top 10 Verdicts in the United States in 2019, Topverdict.com (Pilliod et al. v. Monsanto Co.)
Daily Journal Top Verdicts 2019
2020 Elite Trial Lawyers Mass Tort Law Firm of the Year Finalist, The National Law Journal and The Trial Lawyer Magazine
2019 Trial Lawyer of the Year Finalist, Consumer Attorneys Association of Los Angeles
2019 Elite Trial Lawyers Mass Tort Trial Team of the Year, The National Law Journal and The Trial Lawyer Magazine
America's 50 Most Influential Trial Lawyers 2019 – Trial Lawyer Magazine and The National Law Journal
Top Plaintiffs Lawyers in California 2019, Daily Journal
Trial Team of the Year 2019, The National Trial Lawyers Top 100
The Round Table: America's Most Influential Trial Lawyers 2018, National Trial Lawyers
Top 100 Lawyers in California 2018, Daily Journal
Daily Journal Top Verdicts, 2018
Lawdragon 500 Leading Lawyers 2020
Lawdragon 500 Leading Plaintiff Consumer Lawyer, 2019, 2020, 2021
Number 1 Product Liability Verdict in California in 2018, Topverdict.com (Johnson v. Monsanto Co.)
Top 10 Personal Injury Verdicts in the U.S. in 2018, Topverdict.com (Johnson v. Monsanto Co.)
Top 100 Verdicts 2018, ALM, National Law Journal, Verdict Search (Johnson v. Monsanto Co.)
CVN's Top 10 Most Impressive Plaintiff Verdicts of 2018
Baum Hedlund congratulates Attorney and Senior Partner R. Brent Wisner on his selection as a Law360 MVP of the Year in Product Liability for his landmark verdicts on behalf of those injured by Monsanto's (now Bayer) weed killer, Roundup. Read more here: https://t.co/CFgF47TRe4 pic.twitter.com/eu7Rp23vKu

— Baum Hedlund Aristei & Goldman (@baumhedlund) October 6, 2020
Early Career
Prior to working at Baum Hedlund, Brent served as a Law Clerk for the Honorable Helen Gillmor in the U.S. District Court for the District of Hawaii for two years. While clerking, he worked on several jury trials, both criminal and civil, and was responsible for aiding the Court in resolving complex pretrial and post-trial motions. In addition, he worked on several cases in other jurisdictions, including the District of Arizona and the Eastern District of California. While clerking, Brent also gained valuable appellate court experience when Judge Gillmor sat on the United States Court of Appeals for the Ninth Circuit in Pasadena, California.
Brent received his law degree (J.D.) and a Master of Public Policy (M.P.P.) from Georgetown University prior to his clerkship. While at Georgetown on a scholarship, he was recognized for his commitment to public interest law and received a pro bono service award for completing over 750 hours of volunteer legal work.
During law school, Brent was heavily involved with the Georgetown Law Trial Advocacy Program, where he was one of the most successful mock trial advocates in the history of the school. Some accolades Brent received at various national competitions included "Top Advocate" at the National Ethics Trial Convention — a competition he also won — and "Most Exceptional Advocate" at the National White-Collar Crime Invitational. Because of Brent's success with mock trial, he volunteered as a coach and instructor of the team and served as the Managing Director of the Trial Advocacy Program during his third year of law school. In addition to his pro bono work and participation in mock trial, Brent also served as the Executive Editor of the Georgetown Public Policy Review—a peer-reviewed publication focusing on important issues in law and public policy.
---
"They've gone up against big-name companies while advocating for plaintiffs...in some of the biggest and most well-known cases of the past year. They've strategically shaped outcomes, acted as champions to their clients and nabbed massive settlements. And they perform with passion." - Titan of the Plaintiffs Bar: Baum Hedlund's R. Brent Wisner Read the Article
---
Brent also volunteered as a legal intern, during law school, at the Institute on Religion and Public Policy, where he drafted testimony, affidavits, and declarations for legal proceedings that related to human rights. He even wrote a resolution on the imprisonment of Sigma Huda, an outspoken Bangladeshi critic of human trafficking, which passed in the U.S. House of Representatives. During his first summer at law school, Brent worked for the U.S. Attorney's Office in Los Angeles, within the Civil Fraud Division. It was there that Brent first discovered an interest and passion in whistleblower law. In his second summer of law school, he worked as a Summer Associate at Paul Hastings in the Los Angeles office.
Prior to starting law and graduate school, Brent participated in the prestigious Coro Fellowship. As a Coro Fellow, Brent worked on a variety of important projects with labor unions, local and national government, Fortune 100 companies, and non-profit organizations. It was a formative experience for Brent where he developed a unique insight into how, through the law, one could genuinely improve society.
Brent is an outspoken and passionate UCLA Bruin. He received his undergraduate degree, with honors, in Philosophy and Political Science from the University of California, Los Angeles in 2005. At UCLA, Brent was heavily involved with the UCLA Sailing team, serving as a Captain for two years. In addition, Brent was a Captain on the UCLA Mock Trial Team, which during his last two years won back-to-back National Championships. Brent was also personally recognized as an "All-American Attorney" by the American Mock Trial Association.
Practice Areas
Class Actions
Complex and Multi-District Litigation
Consumer Fraud Litigation
Prescription Drugs

Pharmaceutical Drug Product Liability

Product Liability Law
Toxic Torts
Education
Georgetown University Law Center, Washington, D.C., 2010 (Juris Doctor)
Georgetown McCourt School of Public Policy, Washington, D.C. (Master of Public Policy)
University of California, Los Angeles, 2005 (Bachelor of Arts in Philosophy and Political Science)
Georgetown Public Policy Review, Executive Editor
Mock Trial: Georgetown Law Barristers' Council, Trial Advocacy, Managing Director
Court Admissions
California, 2011
U.S. District Court, Northern District of California, 2012
U.S. Dist. Court, Central District of California, 2013
U.S. Dist. Court, Eastern District of California, 2013
U.S. Dist. Court, Southern District of California, 2013
U.S. Court of Appeals, First Circuit, 2013
U.S. Supreme Court, 2014
U.S. Court of Appeals, Seventh Circuit, 2014
U.S. Court of Appeals, Ninth Circuit, 2014
U.S. District Court, Southern District of Indiana, 2015
U.S. District Court, Western District of Wisconsin, 2016
U.S. District Court, District of Colorado, 2016
U.S. District Court, Northern District of Illinois, 2017
U.S. Court of Appeals, Eleventh Circuit, 2020
District of Columbia, 2021
The District of Columbia Court of Appeals, 2021
Awards and Honors
The American Lawyer's West Trailblazers, 2021
Top List: Up-And-Coming-100, 2021 Southern California Rising Stars (featured on magazine cover)
California Power House, Law360 Regional Powerhouse Series, 2021
Top Plaintiffs Lawyers in California, 2020, Daily Journal
Products Liability Trial Lawyers Association – Top 25, President
2019 Civil Plaintiffs Trial Lawyer of the Year, National Trial Lawyers and ALM
America's 50 Most Influential Trial Lawyers, 2019, Trial Lawyer Magazine and The National Law Journal
2020 Elite Trial Lawyers Mass Torts Law Firm of the Year, Finalist, ALM and National Law Journal
Verdicts Hall of Fame Inductee, The National Law Journal and VerdictSearch
Top 100 Verdicts 2019, ALM, National Law Journal, Verdict Search (Pilliod et al. v. Monsanto Co.)
2019 Trial Lawyer of the Year Finalist, Consumer Attorneys Association of Los Angeles
Number 1 Verdict in California in 2019, Topverdict.com (Pilliod et al. v. Monsanto Co.)
Top 10 Verdicts in California in 2019, Topverdict.com (Pilliod et al. v. Monsanto Co.)
2019 Elite Trial Lawyers Mass Torts Trial Team of the Year, The National Law Journal and The Trial Lawyer Magazine
The Round Table: America's Most Influential Trial Lawyers, Trial Lawyer Magazine and The National Law Journal
Number 1 Product Liability Verdict in California in 2018, Topverdict.com (Johnson v. Monsanto Co.)
Top 10 Personal Injury Verdicts in the U.S. in 2018, Topverdict.com (Johnson v. Monsanto Co.)
Top 100 Verdicts 2018, ALM, National Law Journal, Verdict Search (Johnson v. Monsanto Co.)
Law360 Titan of the Plaintiffs Bar (lifetime award)
Top 10 Product Liability Verdicts in Illinois in 2017, Topverdict.com (Dolin v. GSK)
Top 100 Product Liability Verdicts in the U.S. in 2017, Topverdict.com (Dolin v. GSK)
Top List: Up-And-Coming-100, 2019 Southern California Rising Stars
Top List: Up-And-Coming-100, 2018 Southern California Rising Stars
Selected: Southern California Super Lawyers® – Rising Stars, 2016 – 2020
Listed, The Bar Register of Preeminent Lawyers™
Litigation Leadership
Co-Lead Plaintiffs' Liaison Counsel for the Ranitidine Product Cases, also known as the Ranitidine (Zantac) Judicial Council Coordinated Proceedings (JCCP 5150), California Superior Court for the County of Alameda, California, 2021-
Member, Practices and Procedures Team, In re Zantac/Ranitidine NDMA Litigation, MDL No. 2924 (U.S. District Court, Southern District of Florida), 2020
Co-Chair Zantac Litigation Group, AAJ – American Association for Justice, 2020 – present
Liaison Counsel to Federal MDL-2741 In Re: Roundup Products Liability Litigation for Roundup JCCP 4953 Alameda 2018 – present
Trial Co-Lead Counsel, Pilliod et al. v. Monsanto.Company (3rd Roundup cancer verdict $2.055 billion), Oakland, California, 2019
Trial Counsel, Hardeman vs. Monsanto Company (2nd Roundup cancer lawsuit trial), San Francisco, California, 2019
Trial Co-Lead Counsel, Dewayne "Lee" Johnson vs Monsanto Company (1st Roundup cancer verdict $289.2 million), San Francisco, California, 2018
Plaintiffs' Steering Committee, Administrator and Co-Lead Counsel for the Roundup Products Cases, known as the Roundup Judicial Council Coordinated Proceedings (JCCP 4953), California Superior Court for the County of Alameda, California, 2018 – present
Trial Co-Lead Counsel, Wendy B. Dolin vs GlaxoSmithKline LLC (generic Paxil suicide lawsuit), Chicago, Illinois, 2017
Plaintiffs' Steering Committee / Liaison Counsel for the Cymbalta Drug Cases JCCP 4825 Los Angeles 2015 – present
Trial Co-Lead Counsel, Hagen-Brown vs Eli Lilly (Cymbalta withdrawal lawsuit), Richmond, Virginia, 2015
Member
State Bar of California
Consumer Attorneys of California
Consumer Attorneys of Los Angeles
San Francisco Trial Lawyers Association
American Association for Justice: Leader's Forum; Products Liability; Section on Toxic, Environmental, and Pharmaceutical Torts; Herbicides and Pesticides Litigation Group; Class Action Litigation Group; Zantac Litigation Group (Co-Chair)
Federal Bar Association; Federal Litigation Section; Younger Lawyer Division
Government Service
Law Clerk, Hon. Helen Gillmor, United States District Court, Honolulu, Hawaii, 2010 – 2012
Judicial Extern, Hon. Marian Blank Horn, United States Court of Federal Claims, Washington, D.C., 2009
Summer Extern, United States Attorney's Office, Civil Fraud Division, Los Angeles, California, 2008
Brian Ohleyer Legislative Intern, Office of United States Senator Barbara Boxer, Washington, D.C., 2004 – 2005
Governmental Testimony
Briefing before Parliament of Canada's Green Party of Canada about the $289M Monsanto Roundup cancer verdict and the Monsanto Papers at Parliament Hill, Ottawa, January 30, 2019
Presentations / Speeches
Topic: Deep Dive: Products Liability - Trial Overview - Lowering the Hammer/Lessons from the Monsanto Trials

Organization: CAALA - Consumer Attorneys Association of Los Angeles

Event: CAALA's Annual Las Vegas Convention

Location: Las Vegas, Nevada

Date: September 2-3, 2021

Topic: Alternative Jurisdictions to the MDL in the Zantac Litigation

Organization: MTMP - Mass Torts Made Perfect

Event: MTMP Connect Webinar via Zoom

Date: September 1, 2021

Topic: The Monsanto Story: How I Became the Youngest Attorney to Ever Obtain a Multi-Billion Dollar Verdict

Organization: SFTLA - San Francisco Trial Lawyers Association

Event: New Lawyers Division Adventure Conference

Location: Virtual and in Santa Cruz, California

Date: June 18-19, 2021

Topic: Zantac: Census, Criteria, and Case Update

Organization: MTMP – Mass Torts Made Perfect

Event: MTMP Virtual Vegas Spring 2021

Date: April 13, 2021
Topic: Baby Food Litigation: The Personal-Injury Component of the Litigation

Organization: Harris Martin CLE Conference

Event: Harris Martin's Webinar Series: Baby Food Litigation

Date: April 8, 2021
Topic: Trial Attorneys: Open for Business – West Coast

Organization: Senior Attorney Match

Event: Podcast

Date: May 5, 2020
Topic: Breaking down the 1st Monsanto Roundup trial and $289 verdict

Organization: CaseAnalysis.com

Event: Webinar

Date: May 4, 2020
Topic: Zantac Census Plus

Organization: Mass Torts Made Perfect Connect

Event: Webinar

Date: April 8, 2020
Topic: Zantac: A Major Health Crisis

Organization: Mass Torts Made Perfect Connect

Event: Webinar

Date: March 26, 2020
Topic: Zantac litigation

Topic: Roundup litigation

Organization: Masters of Mass Tort

Event: Conference

Location: Ritz Carlton, Cancun

Date: February 27, 2020
Topic: Status of the Zantac Litigation

Organization: AAJ – American Association for Justice

Event: Rapid Response Webinar

Date: January 31, 2020
Topic: Zantac: Diving into the Science (NDMA, Ranitidine, and the Risk of Cancer)

Organization: Harris Martin

Event: Harris Martin's MDL Conference: Zantac, Sex Trafficking and Emerging

Mass Tort Litigation Agenda

Location: Tampa, Florida

Date: January 29, 2020
Topic: The Science: NDMA, Ranitidine, and the Risk of Cancer

Topic: Moderator – Class Actions for Consumers & TPPs (Third-Party Payors)

Organization: Harris Martin

Event: Harris Martin's Zantac Litigation Conference

Location: Miami Beach, Florida

Date: January 8, 2020
Topic: Key New Mass Torts: Zantac, Paragard, and HIV Drugs

Topic: Anatomy of a Roundup Trial and the Upcoming Docket

Organization: Harris Martin

Event: MDL Conference

Location: Austin, Texas

Date: December 4, 2019
Topic: Zantac Attack: Over the Counter Carcinogen

Organization: Mass Torts Made Perfect

Event: Seminar

Location: The Bellagio, Las Vegas, Nevada

Date: October 23, 2019
Topic: $289M Monsanto Roundup Verdict – Life After the Daubert Ruling

and Johnson Trial

Speech Title: The Johnson Trial and JCCP ( Judicial Council Coordination Proceedings)

Organization: Harris Martin Publishing

Event: Half-Day Roundup CLE (Continuing Legal Education)

Location: Loews Santa Monica Beach Hotel, Santa Monica, California

Date: October 24, 2018
Topic: Recent $289M Monsanto Verdict

Organization: Harvard University

Event: Notable torts case discussion with Professor Jon Hanson's Tort Law Class

Location: Harvard Law School, Cambridge, Massachusetts

Date: September 28, 2018
Topic: Monsanto Roundup Litigation

Organization: Mass Torts Made Perfect

Event: MTMP Spectacular Fall Conference

Location: Las Vegas, Nevada

Date: October 19, 2017
Topic: Cymbalta Withdrawal Litigation In re: Cymbalta (Duloxetine) Products

Liability Litigation

Organization: American Association for Justice

Event: AAJ Education's Plaintiff-Only Hot Topics and Trends in Litigation Seminar

Location: Charleston, South Carolina

Date: December 3, 2014
Author
Politics of Enforcement: How the Department of Justice Enforces the Civil False Claims Act, 17 GEO. PUB. POL'Y REV. 43-60, 2012
Judicial Activism? The Roberts Court in the Coming Term, GEO. PUB. POL'Y REV., Dec. 31, 2009
Asylum Denied: Seeking Asylum in the Age of Terrorism, 12 GEO. PUB. POL'Y REV. 21, 2007
Expressing the Sense of the House of Representatives Regarding the Violation of the Human Rights of United Nations Special Rapporteur on Trafficking in Persons, Sigma Huda, and Others, by the Caretaker Government of Bangladesh, H. R. 761, 110th Cong., 2007
Notable Media Appearances
TV
60 Minutes
CBC News
CBS Evening News
Democracy Now
EFE Agency TV (Spain)
Euronews TV
Fox TV Chicago
France 2
Good Day LA
NBC TV News 5 Chicago
The Doctors
News
American Lawyer
Associated Press
Barrons, Dow Jones
BBC Radio
Bloomberg BNA
Boston Globe
Businessweek
Chicago Daily Law Bulletin
Chicago Sun Times
Chicago Tribune
Country Guide – Canada
Deutsche Welle
Europe 1
Fierce Pharma
Forbes
Fox Business
Handelsblatt
Huffington Post
KDAL radio
KFGO radio
KFI AM 640 Talk Radio
Law360
Life Extension Daily News
Markets Insider
Medical News Today
National Law Journal
New York Times
Organic Authority
Pharmalot
Reuters
St. Louis Post-Dispatch
St. Louis Public Radio
The Australian
The Daily Journal
The Fern.org
The Guardian
The Legal Intelligencer
The Pioneer (India)
USA Today
Wall Street Journal
Yahoo Finance
Additional Languages
French
Spanish (Conversational)
Best Lawyers - R. Brent Wisner

The Trial Lawyer's Round Table America's Most Influential Trial Lawyers

Law360 Titans of the Plaintiffs Bar - Brent

Law360 California Powerhouse

Elite Trial Lawyers

Verdicts Hall of Fame

Law360 MVP of the Year - R. Brent Wisner

Law360 Product Liability Practice Group of the Year

The National Top 40 Under 40

Number 1 Jury Verdicts

Top 10 Jury Verdicts

Product Liability Trial Lawyers Assn – Top 25

Super Lawyers - R. Brent Wisner

Avvo 10.0 Rating

DJ Top 100 Lawyers 2018 - Brent

DJ Top Verdicts - Brent

Lawdragon 500 Leading Lawyers

Lawdragon 500 Leading Plaintiff Consumer Lawyers

The Bar Register of Preeminent Lawyers

Leaders Forum - Patron