Garbage Truck Accident Lawyer
It is easy to assume that garbage truck accidents don't happen often since city refuse and recycling trucks (also known as waste collection vehicles) usually come to collect trash just once (or twice) a week. But according to United States government statistics, more than 1,400 garbage truck accidents cause injuries each year, and more than 120 result in at least one death.
Garbage truck accidents are on the rise in the U.S. Between 2016 and 2018, the country saw a 25% increase in fatal garbage truck accidents, per the Federal Motor Carrier Safety Administration (FMCSA). As experienced garbage truck accident attorneys representing victims in these potentially deadly incidents, we want you to understand your full legal rights if the worst should happen to you or a member of your family.
If you would like to speak with a truck accident lawyer about pursuing a legal claim, please contact us or call toll-free 855-948-5098 for a free and confidential case evaluation.
Garbage Trucks Are Capable of Causing Severe Injuries
Like any tractor-trailer or semi-truck on the road, garbage trucks are large and heavy vehicles capable of causing severe damage. The average weight of a garbage truck is 64,000 pounds, according to Southern California-based Titan Recycle and Trash. Smaller trash trucks are still quite heavy, often weighing about 40,000 pounds.
The sheer size and weight of trash trucks make them dangerous. In any accident involving a garbage truck, car occupants, motorcyclists, bicyclists, or pedestrians usually bear the brunt of the damage. According to data from the Insurance Institute for Highway Safety (IIHS), in fatal crashes between a large truck and a passenger vehicle, 97% of the reported deaths were occupants of passenger vehicles.
Garbage Truck Statistics
According to the U.S. Bureau of Labor Statistics (BLS), there are currently more than 120,000 garbage and sanitation workers collecting and dumping refuse and recyclables. The top five states with the most sanitation collectors (and the most garbage collection vehicles on the road) include:
California (13,950 garbage and waste workers)
New York (10,290 garbage and waste workers)
Texas (10,060 garbage and waste workers)
Florida (9,190 garbage and waste workers)
North Carolina (5,980 garbage and waste workers)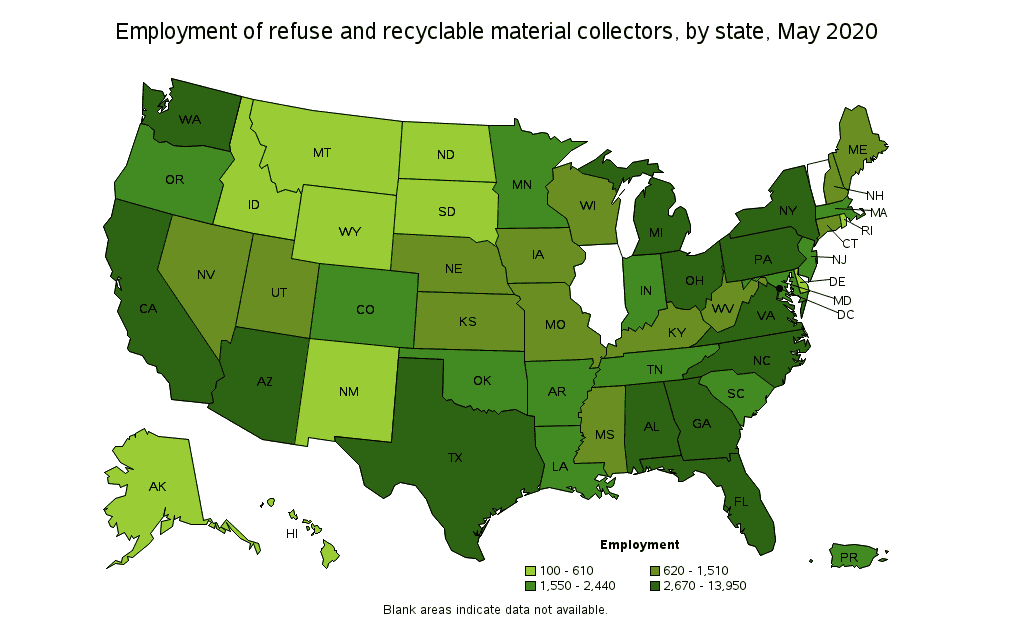 Below you will find fatal garbage truck crash statistics from the FMCSA for the most recent years (2016 – 2018):
| | | |
| --- | --- | --- |
| 2016 Garbage Truck Accidents | 2017 Garbage Truck Accidents | 2018 Garbage Truck Accidents |
| 93 Fatal | 108 Fatal | 124 Fatal |
| 1,485 Injury | 1,427 Injury | 1,471 Injury |
| 2,356 Total | 2,430 Total | 2,569 Total |
Driving a garbage truck is difficult and dangerous. In fact, a garbage truck driver is one of the most dangerous jobs one can have in America. The fatal injury rate for waste collectors is 34 per 100,000, which is ahead of police officers, firefighters, construction workers, and many others.
The margin for error is very small when you are dealing with heavy and dangerous equipment, and often facing time-sensitive and demanding schedules each workday. If a garbage truck driver speeds, drives while fatigued, or is distracted by a cell phone, the result can be deadly. Government data shows that at least one driver-related factor was cited in roughly a third of all fatal truck crashes in 2018.
But truck driver negligence is not the only factor in truck crashes. Manufacturing defects and maintenance failures are also causes of garbage truck accidents. For example, if a component part of a garbage truck had a design deficiency or was not manufactured correctly, and that failure led to an accident, the company responsible may be held liable in a lawsuit.
Why You Need a Garbage Truck Lawyer
Determining the cause of an accident and uncovering all of the responsible parties takes experience and skill. An accident lawyer that has a track record of success litigating trucking cases will understand how to identify all negligent parties and maximize compensation for the victims. We have litigated numerous cases in which our law firm's investigation found negligence outside the purview of a law enforcement investigation. This investigative work effectively increased the case value to our clients.
Garbage and waste management companies (and their insurers) will often go to great lengths to avoid liability for causing personal injuries or deaths when one of their trucks is involved in an accident or incident. These companies have extensive resources. They will dispatch their own investigators, attorneys, and other personnel to strengthen their case and limit any payout to victims. It is their job to cast the case in a light most favorable to their clients.
Hiring an experienced, board-certified truck accident lawyer is your way to level the playing field.
Los Angeles Garbage Truck Attorneys
The Los Angeles law firm of Baum Hedlund Aristei & Goldman has litigated truck accident cases in California and across the U.S. for more than 30 years. We know what it takes to win against garbage and waste management companies. Our truck accident lawsuit case results speak for themselves:
$15 million truck accident settlement in tractor trailer vs. pedestrian lawsuit
$8.5 million truck crash verdict plus pre and post-judgment interest
$6.9 million truck crash settlement against major trucking company
$6 million truck crash settlement
75 truck accident lawsuits resolved for over $1 million
Having a team that is client focused and trial ready means you can focus on what is most important after a garbage truck accident: regaining your health and putting your life back in order.
But don't take our word for it, hear what our clients have to say:
Baum, Hedlund, Aristei & Goldman is an incredible firm. They are so knowledgeable and efficient and yet still have great soft skills. They were there every single step of the way to assist us with any questions we had; you are being led by some of the leading experts in the law field with this firm. I cannot say enough about how much they helped through a very difficult time. If you are not talking to this firm, you are doing yourself a huge disservice.
- Lance Daul
We could not have asked for a better firm to represent us. Baum, Hedlund, Aristei & Goldman was the peak of professionalism. They were always quick to respond and always proved they were in the corner with us; we were a part of the team. It was obvious from the responses of the defendant's attorneys and the judges we dealt with that our firm was held in high esteem and was well respected. At all times, the firm was quick to ensure the comfort of my family, whether that was in making sure that depositions were done geographically close to my family or that we got to the airport safely after our meetings. They went above and beyond the lawsuit. They helped navigate through things like car storage and medical bills. They were present at court dates that were not directly involved with the case they were hired to handle. Our firm ensured that we navigated the overwhelming court system with a strong advocate in our corner – during what could have felt insurmountable, they were there! During what was a dark time for our family – they were the light at the end of the tunnel helping us heal and find our way.
- Peggy Delano
Commercial Truck Accident $15 Million

$15 million settlement for a person gravely injured by a major truck company

Commercial Truck Accident $8.5 Million

$8.5 million wrongful death verdict against food industry company, Tyson Foods

Truck Accident Settlement $6.9 Million

Fatal Truck Accident $6 Million
Best Law Firms 2022

A ranking in The U.S. News – Best Lawyers® "Best Law Firms" is widely regarded by both client and legal professionals as a significant honor. It is considered the most reliable, unbiased source of legal referrals anywhere.

The Truck Safety Coalition

Baum Hedlund is proud to be a sponsor of The Truck Safety Coalition, a a group of caring individuals dedicated to reducing the number of deaths and injuries caused by truck-related crashes. Our support enables them to help families and save lives.

California Powerhouse

Law360 recognizes law firms that have a strong regional presence, working on important matters within their home state. "[Baum Hedlund] possesses a David v. Goliath-sized slingshot while seeking justice for everyday citizens it believes were harmed or killed through corporate wrongdoing."

Elite Trial Lawyers

NLJ and American Lawyer Media honor law firms and attorneys as Elite Trial Lawyers for their cutting-edge legal work on behalf of plaintiffs in practice areas ranging from mass torts to securities litigation.

Listed in Best Lawyers

Best Lawyers is the oldest and most respected peer-review publication in the legal profession. A listing in Best Lawyers is widely regarded by both clients and legal professionals as a significant honor, conferred on a lawyer by his or her peers.

AV Top Ranked Law Firm

Less than one-half of one percent of firms across the nation have achieved this ranking. A firm must have a high percentage of lawyers who have achieved the prestigious AV® Preeminent rating by Martindale-Hubbell®.

Verdicts Hall of Fame

The National Law Journal inducted Baum Hedlund into the Verdicts Hall of Fame for obtaining the $2 billion landmark verdict in the Roundup cancer case of Pilliod et al. v. Monsanto. The verdict was #1 in California and #2 in the U.S. in 2019 and is #9 in American history.

Super Lawyers

Super Lawyers is a rating service of outstanding lawyers from more than 70 practice areas who have attained a high-degree of peer recognition and professional achievement.

National Trial Lawyers Top 100

The National Trial Lawyers Top 100 recognized the law firms of Baum Hedlund Aristei & Goldman, the Miller Firm and Audet & Partners with the 2019 Trial Team of the Year award (in the Mass Torts category) for their work in the groundbreaking case of Dewayne "Lee" Johnson v. Monsanto Company.

AV Preeminent Peer Review Rated

An AV® rating reflects an attorney who has reached the heights of professional excellence. The rating signifies the highest legal ability, and very high adherence to professional standards of conduct, ethics, reliability, and diligence.

Avvo 10.0 Rating

Baum Hedlund is proud to have all of its lawyers listed in Avvo, a legal directory connecting people in need of legal services with lawyers and connecting lawyers to lawyers. Eight of our attorneys have earned a 10.0 perfect rating with Avvo.

Board Certified Attorneys

The National Board of Trial Advocacy is one of the nation's largest and oldest private board-certification organizations for attorneys. Two of our shareholders are certified in multiple specialties.

Top Jury Verdict in
CA and USA

TopVerdict.com ranks our $2 billion verdict in Pilliod et al. v. Monsanto as the biggest verdict in California and the second largest verdict in the U.S. in 2019. It is the ninth largest verdict in U.S. history.

Lawdragon 500 Leading Plaintiff Consumer Lawyers

Published annually, the Lawdragon 500 Leading Plaintiff Consumer Lawyers list recognizes the "best of the best" in this area of the law through nominations, research, and review by a board of their peers.

Multi-Million Dollar Advocates Forum

Multi-Million Dollar Advocates Forum is one of the most prestigious groups of trial lawyers in the United States.  Membership is limited to attorneys who have won million and multi-million-dollar verdicts and settlements.

Product Liability Practice Group of the Year

In 2020, Law360 honored the law firms "behind the litigation wins and major deals that resonated throughout the legal industry." It recognized our success in several landmark cases.

Top Personal Injury Jury Verdict in California

In 2018, our $289 million Johnson v. Monsanto verdict was the largest personal injury verdict in California. TopVerdict.com also ranked it #2 among all verdicts in California and #10 in the nation.

Bar Register of Preeminent Lawyers

The Bar Register is the definitive guide to the most distinguished law firms in America. It includes only those select law practices that have earned the highest rating in the Martindale-Hubbell Law Directory and have been designated by their colleagues as preeminent in their field.

Rated AV Preeminent for 31 Years
Firm Reviews
What Our Clients Are Saying
I Can't Imagine a Better Law Firm - Best Law Firms Survey

They Are About Changing the Systems... - Kim Witczak

Top Legal Minds in the Country - From Best Lawyers® Best Law Firms

Diligent & Professional Representation - W.T.

Our Best Interest Was Always Number One on Your List - G.C. & C.C