Aircraft Maintenance Negligence
During our relentless pursuit of justice for victims of aviation accidents over the past few decades, we have seen a disturbing increase in aircraft maintenance negligence. When airlines try to cut costs by outsourcing their maintenance or choose cheaper maintenance providers that might be ill equipped to handle certain types of aircraft, the result can be deadly. Yet even when experienced workers perform maintenance on a plane or helicopter, one skipped step can mean the difference between life and death for those onboard. Unlike a smoking engine or a broken wing, the effects of aircraft maintenance negligence will often go unseen until it is too late.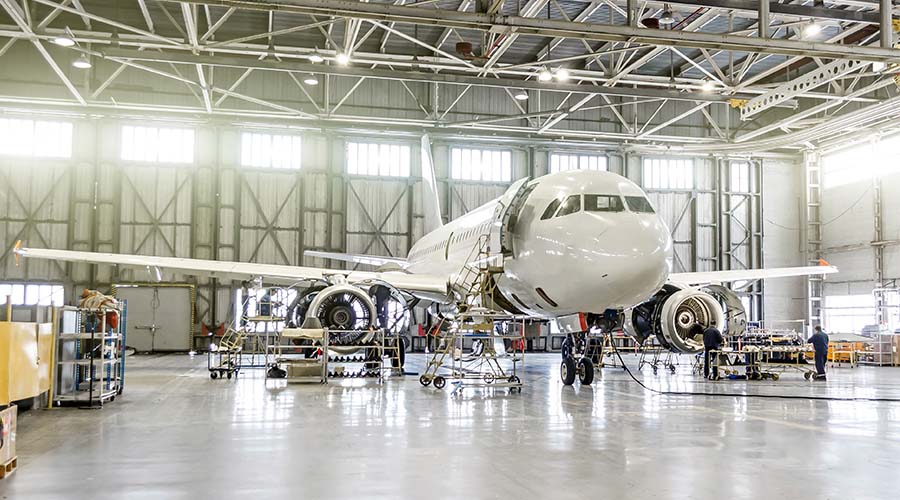 When Aircraft Maintenance Negligence Costs Lives
January 8, 2003, a small 19-passenger plane took off as scheduled from Charlotte-Douglas International Airport. After taking off, the nose of the plane uncontrollably kept rising until the plane stalled. Due to defective maintenance of the elevator control system and center of gravity imbalance, the pilot was incapable of bringing the nose of the plane back down. With the plane pointed straight upward, air could no longer flow over the wings and the plane lost all lift, causing it to plunge to the ground. Everyone aboard Air Midwest Flight 5481 — 19 passengers, pilot, and first officer — died as the plane crashed and erupted into flames.
Planes the size of the Beech 1900 (the plane that carried Flight 5481) are required to undergo a routine, detailed maintenance inspection every 100 hours. In this instance, the plane had undergone a maintenance inspection just days before the aviation accident. However, aircraft maintenance negligence during the inspection led to the death of 21 people aboard the plane. The National Transportation Safety Board (NTSB) investigation into this particular plane crash revealed the role that aircraft maintenance negligence played in placing this small aircraft flight — and the passengers aboard — at great risk.
Example of Aircraft Maintenance Negligence
There were several problems that contributed to the Air Midwest 5481 crash. In a maintenance check, just days before the crash, maintenance workers (who were outsourced, inexperienced subcontractors) found that the cables that controlled the elevation were out of adjustment. An inexperienced mechanic adjusted them incorrectly. The mechanics skipped nine steps in the maintenance operation — committing a critical error in making and checking the adjustments made to the cables.
In addition, there were problems with the center of gravity which compounded the problems associated with the aircraft maintenance negligence. Federal Aviation Administration (FAA) guidelines set forth an average passenger weight and average luggage weight to be used in calculating weight to determine whether a plane is overloaded. However, these average weights had not been evaluated since 1936. Using these outdated guidelines, the plane was declared safe for take-off. However, using the actual weight aboard, the plane was carrying nearly 600 pounds over its capacity. Because the elevation/pitch controls were not functioning properly due to their maladjustment, the captain did not have any chance at avoiding the crash once the airplane lifted off.
"Too many airlines do the absolute minimum to keep their planes flying." -Ron Goldman, aviation accident attorney of Baum Hedlund Aristei & Goldman, P.C.
The aviation law firm of Baum Hedlund Aristei & Goldman, P.C., based in Los Angeles, California, represented two families in wrongful death actions against Air Midwest and its maintenance company, Vertex Aerospace (now known as L-3 Communications Aerotech) the companies responsible for the aircraft maintenance negligence in this case. As a result of our client's fierce determination and our negotiation skills, we obtained a favorable settlement for our clients and an unprecedented apology from the airline to all the victims' families.
However, Flight 5481 was not the first plane with aircraft maintenance negligence — and, unfortunately, was not the last. Lack of oversight by the FAA and by the commercial airlines themselves has resulted in outsourcing of maintenance, repair and overhaul (MRO) inspections to contractors and subcontractors with limited experience and insufficient inspection oversight. Profits are placed above safety when dealing with aircraft maintenance. In fact, some large airlines outsource approximately ninety percent of their maintenance inspections. As a result, aircrafts that may not be air-worthy are being placed in service, putting the lives of passengers in jeopardy.
A Major US Plane Crash $17.5 Million

A Major US Plane Crash $14 Million

Helicopter Crash $12 Million

A Major Foreign Plane Crash $10 Million
Helping Victims of Aircraft Maintenance Negligence
At Baum Hedlund Aristei & Goldman, our attorneys dedicate their practice to crash victims and their families. We find answers for our clients and pursue justice and compensation on their behalf. And, as in the case involving Flight 5481, we pursue more than just compensation. We fought for an apology for the aircraft maintenance negligence that cost the lives of 21 people on that tragic day. We are here to provide you with the same service — fighting for justice and accountability.We know how to pursue claims against those responsible for all types of aircraft maintenance negligence. Our experience has given us the skills necessary to fight for those harmed by dangerous practices that put planes and their passengers at risk. Our firm will work hard to determine the true cause of an accident and get just compensation for those harmed in the accident.*
For immediate assistance — or to schedule an initial consultation or case evaluation with an experienced plane crash lawyer — please contact Baum Hedlund, P.C.
"The Baum, Hedlund firm has some of the top legal minds in the country; they are driven, determined, trustworthy, ethical and passionate."

- From Best Lawyers® Best Law Firms
Best Law Firms 2021

The U.S. News – Best Lawyers® "Best Law Firms" rankings are based on lawyer evaluations, peer review from leading attorneys in their field, and review of additional information provided by law firms as part of the formal submission process.

National Trial Lawyers Top 100

The National Trial Lawyers Top 100 recognized the law firms of Baum Hedlund Aristei & Goldman, the Miller Firm and Audet & Partners with the 2019 Trial Team of the Year award (in the Mass Torts category) for their work in the groundbreaking case of Dewayne "Lee" Johnson v. Monsanto Company.

Elite Trial Lawyers

NLJ and American Lawyer Media honor law firms and attorneys as Elite Trial Lawyers for their cutting-edge legal work on behalf of plaintiffs in practice areas ranging from mass torts to securities litigation.

AV Top Ranked Law Firm

Less than one-half of one percent of firms across the nation have achieved this ranking. A firm must have a high percentage of lawyers who have achieved the prestigious AV® Preeminent rating by Martindale-Hubbell®.

Listed in Best Lawyers

Best Lawyers is the oldest and most respected peer-review publication in the legal profession. A listing in Best Lawyers is widely regarded by both clients and legal professionals as a significant honor, conferred on a lawyer by his or her peers.

Verdicts Hall of Fame

The National Law Journal inducted Baum Hedlund into the Verdicts Hall of Fame for obtaining the $2 billion landmark verdict in the Roundup cancer case of Pilliod et al. v. Monsanto. The verdict was #1 in California and #2 in the U.S. in 2019 and is #9 in American history.

AV Rated

An AV® rating reflects an attorney who has reached the heights of professional excellence. The rating signifies the highest legal ability, and very high adherence to professional standards of conduct, ethics, reliability, and diligence.

Super Lawyers

Super Lawyers is a rating service of outstanding lawyers from more than 70 practice areas who have attained a high-degree of peer recognition and professional achievement.

National Board of Trial Advocacy

The National Board of Trial Advocacy is dedicated to bettering the quality of trial advocacy in our nation's courtrooms and helping consumers find experienced and highly qualified trial lawyers.

Nation's Top 1%

The NADC is an organization dedicated to promoting the highest standards of legal excellence. Only the elite few attorneys are invited to join the NADC, less than 1% of practicing attorneys in the U.S.

Multi-Million Dollar Advocates Forum

Multi-Million Dollar Advocates Forum is one of the most prestigious groups of trial lawyers in the United States.  Membership is limited to attorneys who have won million and multi-million-dollar verdicts and settlements.

Bar Register of Preeminent Lawyers

The Bar Register is the definitive guide to the most distinguished law firms in America. It includes only those select law practices that have earned the highest rating in the Martindale-Hubbell Law Directory and have been designated by their colleagues as preeminent in their field.
Firm Reviews
What Our Clients Are Saying
Top Legal Minds in the Country - From Best Lawyers® Best Law Firms

I Can't Imagine a Better Law Firm - Best Law Firms Survey

Diligent & Professional Representation - W.T.

Our Best Interest Was Always Number One on Your List - G.C. & C.C

We Have Never Met a More Wonderful Group of People - The B. Family