Leiomyosarcoma (LMS) Cancer
What Is Leiomyosarcoma?
Leiomyosarcoma is a malignant (cancerous) tumor derived from smooth muscle cells. Otherwise known as LMS, leiomyosarcoma tumors are considered rare and often difficult to treat. The prognosis is poor, and survival rates are among the lowest out of all soft tissue sarcomas.
Leiomyosarcoma (LMS) is one form of a very rare and aggressive cancer called 'sarcoma,' which is a cancer of the connective or supportive tissues of the body. These tissues can be found in bone, cartilage, fat, muscle, and blood vessels. Among uterine cancer patients, uterine leiomyosarcomas (ULMS) account for roughly one percent of patients with uterine cancer. It is worth noting that leiomyosarcoma can arise from other gynecological primary sites.
Leiomyosarcomas can be quite unpredictable. In some patients, they can remain dormant for long periods of time only to recur after a few years. Leiomyosarcoma is considered a resistant cancer, which means it generally doesn't respond to chemotherapy or radiation. The best reported outcomes occur when the tumors can be surgically removed with wide margins in an early stage, while small and still in their original place (when malignant cells are present as a tumor but have not yet metastasized beyond the basement membrane of where the tumor was first discovered).
Leiomyosarcoma Symptoms
Uterine leiomyosarcoma is most common among women between the ages of 40 and 60 years of age.
Some of the most frequent presenting symptoms include:
Abnormal vaginal bleeding (amount of bleeding can vary from spotting to menorrhagia (abnormal heavy bleeding during menstruation)
Pelvic or abdominal pain
Foul-smelling vaginal discharge
Less common symptoms can include:
Weight loss
Weakness
Lethargy
Fever
In a pelvic exam, the uterus is often enlarged and in some cases, part of the tumor can prolapse through the cervical os (the opening of the cervix) into the vaginal canal. Diagnosis of ULMS is generally not made prior to surgery, so many patients see a physician with advanced disease.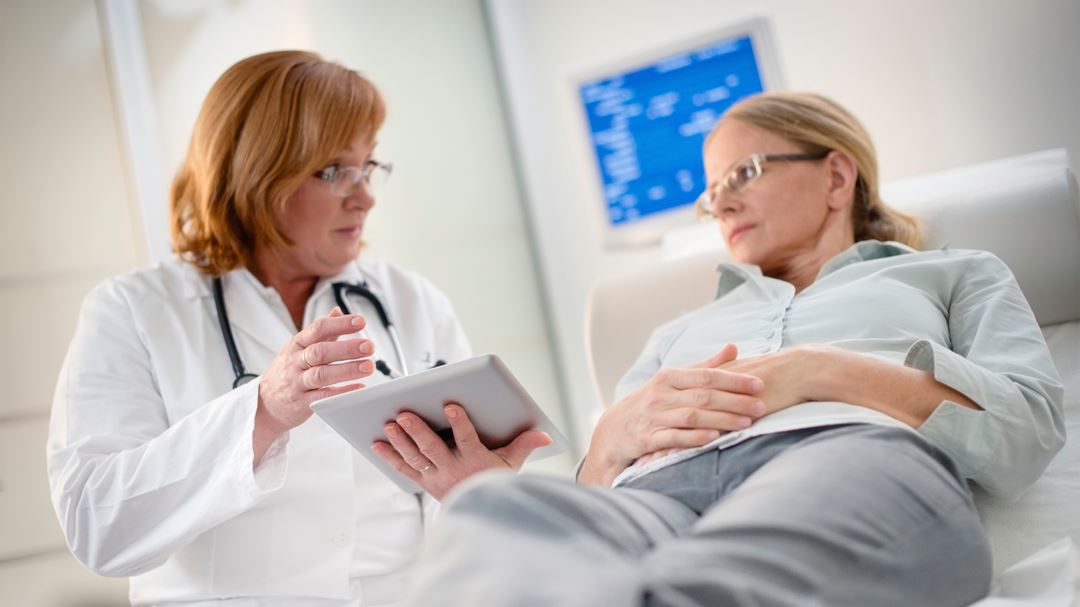 Leiomyosarcoma Prognosis
According to a recent study published in the International Journal of Surgical Oncology (Volume 2014), uterine leiomyosarcoma carries an extremely poor prognosis. Selected patients who had greater than a year of first recurrence, resectable disease (surgically removable) at recurrence, and early stage of the disease at initial diagnosis, a secondary cytoreductive surgery can be beneficial and may prolong survival.
Uterine fibroids are noncancerous tumors in the uterus that often appear in women during their childbearing years. Also referred to as leiomyomas, uterine fibroids are not associated with a higher risk of uterine cancer and rarely develop into cancer.
Fibroids form in the smooth muscular tissue of the uterus (called the myometrium). Their growth can be unpredictable, with some fibroids staying the same size and others going through growth spurts. In some cases, uterine fibroids may shrink on their own. Fibroids present during pregnancy can shrink or disappear outright after pregnancy, as the uterus returns to a normal size.
As many as 75 percent of women will have uterine fibroids at some point in their lives, though many are unaware of their presence, as they often do not cause symptoms.
| | |
| --- | --- |
| Uterine Fibroids (Leiomyomas) | Leiomyosarcoma |
| Usually multiple | Often solitary |
| White | Yellow or tan |
| Varying in size, but usually 3-5cm | Large, often >10cm |
| Firm surface | Soft, fleshy cut surface |
| Hemorrhage and necrosis infrequent | Hemorrhage and necrosis frequent |
Leiomyosarcoma, on the other hand, is rare and carries with it a poor prognosis. Doctors who evaluate women with presumed uterine fibroids are challenged when deciding which rare patients may have leiomyosarcoma. While there are differences in the populations, there is some overlap between the two disorders.
According to the Food and Drug Administration, about one in every 350 women undergoing a fibroid removal procedure have undetected cancer cells. These cells can easily be seeded throughout the pelvic and abdominal cavity if a power morcellator is used during hysterectomy or myomectomy.
Leiomyosarcoma Treatment
Leiomyosarcomas are considered aggressive tumors, often difficult to treat. A multi-specialty treatment team at a specialized sarcoma care center is a patient's best option for treatment.
Surgery
Local control of soft tissue sarcomas is often achieved with surgery. Pre-operative planning is necessary to ensure adequate surgical margins. Having wide surgical margins is essential to preventing recurrence.
Radiation Z
If a wide surgical margin is not possible, radiation therapy can be an important additional treatment used to improve rates of local control, especially in sarcomas that have reached a high grade. Radiation can either be delivered pre-operatively or post-operatively.
Chemotherapy
Chemo can help slow the progress of leiomyosarcoma. At present, there are a number of investigational studies looking at other potential agents that could be useful in the treatment of leiomyosarcoma. Chemo is occasionally used after initial treatment for cancer, especially to suppress secondary tumor formation.
Leiomyosarcoma Survival Rate
Stage

5-Year Survival Rate

Localized
(cancer is only in the uterus, corresponds to Stage I)

63%

Regional
(cancer has spread to nearby tissues or lymph nodes, includes Stages II, and III)

36%

Distant
(cancer has spread further and includes stages IVA and IVB)

14%
Pilliod et al. v. Monsanto Co. $2 Billion

Pharmaceutical Settlement $105 Million

Whistleblower Settlement $18 Million

$18 million settlement for Boeing government overcharging on aircraft maintenance

A Major US Plane Crash $17.5 Million

Commercial Truck Accident $15 Million

$15 million settlement for a person gravely injured by a major truck company

Commercial Truck Accident $8.5 Million

$8.5 million wrongful death verdict against food industry company, Tyson Foods
Best Law Firms 2022

A ranking in The U.S. News – Best Lawyers® "Best Law Firms" is widely regarded by both client and legal professionals as a significant honor. It is considered the most reliable, unbiased source of legal referrals anywhere.

The Truck Safety Coalition

Baum Hedlund is proud to be a sponsor of The Truck Safety Coalition, a a group of caring individuals dedicated to reducing the number of deaths and injuries caused by truck-related crashes. Our support enables them to help families and save lives.

California Powerhouse

Law360 recognizes law firms that have a strong regional presence, working on important matters within their home state. "[Baum Hedlund] possesses a David v. Goliath-sized slingshot while seeking justice for everyday citizens it believes were harmed or killed through corporate wrongdoing."

Elite Trial Lawyers

NLJ and American Lawyer Media honor law firms and attorneys as Elite Trial Lawyers for their cutting-edge legal work on behalf of plaintiffs in practice areas ranging from mass torts to securities litigation.

Listed in Best Lawyers

Best Lawyers is the oldest and most respected peer-review publication in the legal profession. A listing in Best Lawyers is widely regarded by both clients and legal professionals as a significant honor, conferred on a lawyer by his or her peers.

AV Top Ranked Law Firm

Less than one-half of one percent of firms across the nation have achieved this ranking. A firm must have a high percentage of lawyers who have achieved the prestigious AV® Preeminent rating by Martindale-Hubbell®.

Verdicts Hall of Fame

The National Law Journal inducted Baum Hedlund into the Verdicts Hall of Fame for obtaining the $2 billion landmark verdict in the Roundup cancer case of Pilliod et al. v. Monsanto. The verdict was #1 in California and #2 in the U.S. in 2019 and is #9 in American history.

Super Lawyers

Super Lawyers is a rating service of outstanding lawyers from more than 70 practice areas who have attained a high-degree of peer recognition and professional achievement.

National Trial Lawyers Top 100

The National Trial Lawyers Top 100 recognized the law firms of Baum Hedlund Aristei & Goldman, the Miller Firm and Audet & Partners with the 2019 Trial Team of the Year award (in the Mass Torts category) for their work in the groundbreaking case of Dewayne "Lee" Johnson v. Monsanto Company.

AV Preeminent Peer Review Rated

An AV® rating reflects an attorney who has reached the heights of professional excellence. The rating signifies the highest legal ability, and very high adherence to professional standards of conduct, ethics, reliability, and diligence.

Avvo 10.0 Rating

Baum Hedlund is proud to have all of its lawyers listed in Avvo, a legal directory connecting people in need of legal services with lawyers and connecting lawyers to lawyers. Eight of our attorneys have earned a 10.0 perfect rating with Avvo.

Board Certified Attorneys

The National Board of Trial Advocacy is one of the nation's largest and oldest private board-certification organizations for attorneys. Two of our shareholders are certified in multiple specialties.

Top Jury Verdict in
CA and USA

TopVerdict.com ranks our $2 billion verdict in Pilliod et al. v. Monsanto as the biggest verdict in California and the second largest verdict in the U.S. in 2019. It is the ninth largest verdict in U.S. history.

Lawdragon 500 Leading Plaintiff Consumer Lawyers

Published annually, the Lawdragon 500 Leading Plaintiff Consumer Lawyers list recognizes the "best of the best" in this area of the law through nominations, research, and review by a board of their peers.

Multi-Million Dollar Advocates Forum

Multi-Million Dollar Advocates Forum is one of the most prestigious groups of trial lawyers in the United States.  Membership is limited to attorneys who have won million and multi-million-dollar verdicts and settlements.

Product Liability Practice Group of the Year

In 2020, Law360 honored the law firms "behind the litigation wins and major deals that resonated throughout the legal industry." It recognized our success in several landmark cases.

Top Personal Injury Jury Verdict in California

In 2018, our $289 million Johnson v. Monsanto verdict was the largest personal injury verdict in California. TopVerdict.com also ranked it #2 among all verdicts in California and #10 in the nation.

Bar Register of Preeminent Lawyers

The Bar Register is the definitive guide to the most distinguished law firms in America. It includes only those select law practices that have earned the highest rating in the Martindale-Hubbell Law Directory and have been designated by their colleagues as preeminent in their field.

Rated AV Preeminent for 31 Years
Firm Reviews
What Our Clients Are Saying
I Can't Imagine a Better Law Firm - Best Law Firms Survey

They Are About Changing the Systems... - Kim Witczak

Top Legal Minds in the Country - From Best Lawyers® Best Law Firms

Diligent & Professional Representation - W.T.

Our Best Interest Was Always Number One on Your List - G.C. & C.C