San Francisco Car Accident Attorney
We've Won Billions for Victims of Negligence
A car accident can leave you with a life-changing injury and mountains of debt. Even if the accident seems minor, injuries can linger, and the true toll may not be felt for months.
Car crash victims have to deal with paying medical bills if they are hospitalized or require extended care, like physical therapy. In addition, some victims must take time off from work during their recovery, which affects a family's earning power. All, however, must deal with insurance companies that may attempt to limit their liability by offering a quick and easy settlement.
The San Francisco car accident lawyers at Baum Hedlund Aristei & Goldman have decades of experience litigating accident cases. We know what it takes to prevail in car accident litigation and earn maximum compensation on your behalf.
Backed by over 40 years of legal experience, we know full well that legal action is the only way for many car accident victims to afford the treatment and time off work that they need to heal. Our Bay Area legal team has successfully advocated for the rights of those injured in a variety of traffic accidents, including rear-end collisions, hit-and-run crashes, big rig accidents, and more. Experience the peace of mind that comes with having award-winning trial lawyers in your corner.
Get started with your complimentary consultation—call a San Francisco car accident lawyer at (855) 948-5098.
Car Accident Victims Have Rights
If negligence caused a car accident that injured you, you have a right to pursue compensation against the at-fault party (or parties). That said, you must prove that negligence was involved to be compensated.
Common examples of negligence in car crashes include:
Driving while distracted, such as texting and driving
Driving under the influence of alcohol or recreational, prescription, or illicit drugs
Driving aggressively (e.g. road rage)
Driving recklessly
Speeding
Failing to yield or signal
Executing dangerous lane changes
Operating a vehicle in poor maintenance
Fatigued driving
If one or more of these types of negligence was a factor in the accident that injured you, you likely have grounds for a case.
When to Get an Attorney for a Car Accident
We recommend that car accident victims consult with an attorney before they speak to insurance companies.
Insurance agents are trained to reduce the value of a claim from the very moment a policyholder reports an accident. They may act overly friendly or claim that something is "the standard" to trick policyholders into giving them more information than needed. For instance, many insurance companies have their agents collect recorded statements from policyholders. While you may be required cooperate with your own insurance company, it is best to speak with an experienced attorney before agreeing to a recorded statement.
The sooner you contact an attorney after your accident, the better. We at Baum Hedlund Aristei & Goldman will work to protect you from the predatory tactics occasionally used in the insurance industry. Further, we will work tirelessly to negotiate an accident settlement through insurance and, if necessary, take them to court on your behalf. Taking advantage of our free consultations does not create any obligation for you to move forward with our firm. Schedule a free case review today.
Injuries and Damages in a Car Accident Case
Baum Hedlund Aristei & Goldman represents car accident victims who have sustained serious injuries, such as:
Amputation
Severe burn injuries
Traumatic brain injuries
Spine injuries
Broken bones
Eye injuries
Orthopedic injuries
Fatal injuries
San Francisco Bay Area Traffic Accident Statistics
Below we break down traffic accident statistics by Bay Area counties.
Bay Area Fatal Traffic Accidents
| | | | | | | |
| --- | --- | --- | --- | --- | --- | --- |
| COUNTY | 2016 | 2017 | 2018 | 2019 | 2020 | AVG. |
| ALAMEDA | 78 | 97 | 78 | 90 | 92 | 87.0 |
| CONTRA COSTA | 78 | 62 | 73 | 69 | 93 | 75.0 |
| MARIN | 10 | 14 | 16 | 20 | 9 | 13.8 |
| NAPA | 12 | 15 | 14 | 17 | 19 | 15.4 |
| SAN FRANCISCO | 35 | 25 | 28 | 34 | 31 | 30.6 |
| SAN MATEO | 46 | 29 | 29 | 27 | 38 | 33.8 |
| SANTA CLARA | 106 | 111 | 116 | 124 | 89 | 109.2 |
| SOLANO | 35 | 32 | 53 | 43 | 39 | 40.4 |
| SONOMA | 42 | 42 | 38 | 36 | 31 | 37.8 |
Bay Area Fatal and Injury Traffic Accidents
| | | | | | | |
| --- | --- | --- | --- | --- | --- | --- |
| COUNTY | 2016 | 2017 | 2018 | 2019 | 2020 | AVG. |
| ALAMEDA | 481 | 510 | 579 | 643 | 494 | 541.4 |
| CONTRA COSTA | 328 | 338 | 402 | 430 | 402 | 380.0 |
| MARIN | 85 | 95 | 111 | 107 | 106 | 100.8 |
| NAPA | 82 | 95 | 90 | 87 | 91 | 89.0 |
| SAN FRANCISCO | 308 | 298 | 311 | 341 | 249 | 301.4 |
| SAN MATEO | 203 | 224 | 259 | 246 | 220 | 230.4 |
| SANTA CLARA | 442 | 445 | 533 | 558 | 465 | 488.6 |
| SOLANO | 182 | 161 | 190 | 194 | 183 | 182.0 |
| SONOMA | 229 | 213 | 279 | 255 | 218 | 238.8 |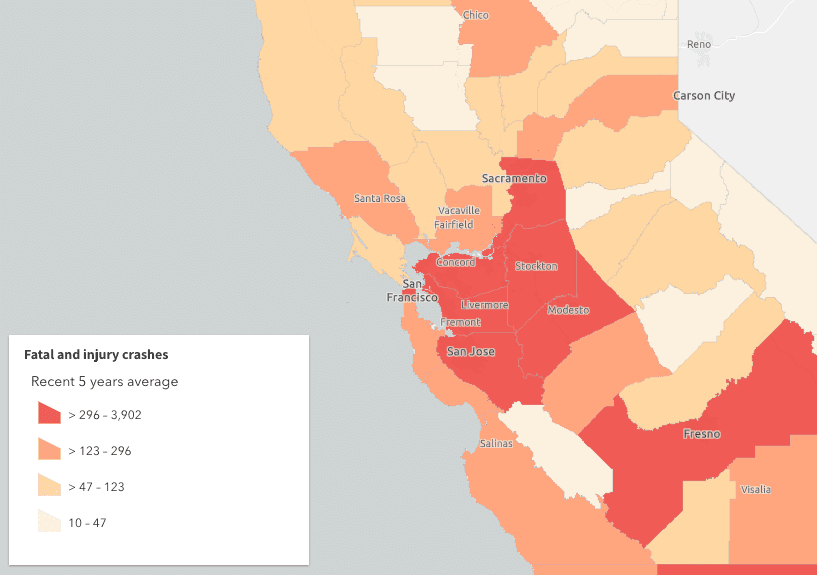 Fatal and Injury Accidents in the Bay Area
How Much is My Car Accident Lawsuit Worth?
The value of a car accident case depends on both the injury sustained and the losses, or damages, incurred. Actions by the at-fault party may also warrant punitive damages, also known as exemplary damages, in order to punish the defendant in cases of outrageous conduct or extreme recklessness. Punitive damages in car accident lawsuits are extremely rare, however, as punitive damages are generally reserved for cases involving malice, oppression, or fraud. Every case is different; some may be worth a few thousand dollars, while others may amount to millions. Severely injured accident victims are often eligible for compensation for their medical expenses, lost wages, pain and suffering, disability care, etc.
Work with an Award-Winning Trial Law Firm
Our trial lawyers at Baum Hedlund Aristei & Goldman are known for providing personalized attention and comprehensive counsel to each and every one of our clients. The National Trial Lawyers, U.S. News—Best Lawyers®, Martindale-Hubbell, and The National Law Journal, among others, have recognized our firm for our premier advocacy. While we are honored by this recognition, we find the most pride in the high volume of clients who take the time to leave a message of gratitude for our legal work. You can read for yourself what our past clients have to say about their experience working with us.
If you would like to learn more about protecting your legal rights after a Bay Area car accident, contact the attorneys at Baum Hedlund Aristei & Goldman. Submit an online form today to get in touch with a San Francisco car accident attorney. We also accept cases throughout California and the United States.
Pilliod et al. v. Monsanto Co. $2 Billion

Dewayne "Lee" Johnson v. Monsanto Co. $289.2 Million

Pharmaceutical Settlement $105 Million

Hardeman v. Monsanto Co. $80 Million

Paxil Pediatric Class Action $63 Million

Third-Party Payer Class Action $40 Million

Defective Drug Class Action $28 Million

Whistleblower Settlement $18 Million

$18 million settlement for Boeing government overcharging on aircraft maintenance

A Major US Plane Crash $17.5 Million

Commercial Truck Accident $15 Million

$15 million settlement for a person gravely injured by a major truck company
Best Law Firms 2022

A ranking in The U.S. News – Best Lawyers® "Best Law Firms" is widely regarded by both client and legal professionals as a significant honor. It is considered the most reliable, unbiased source of legal referrals anywhere.

National Trial Lawyers Top 100

The National Trial Lawyers Top 100 recognized the law firms of Baum Hedlund Aristei & Goldman, the Miller Firm and Audet & Partners with the 2019 Trial Team of the Year award (in the Mass Torts category) for their work in the groundbreaking case of Dewayne "Lee" Johnson v. Monsanto Company.

California Powerhouse

Law360 recognizes law firms that have a strong regional presence, working on important matters within their home state. "[Baum Hedlund] possesses a David v. Goliath-sized slingshot while seeking justice for everyday citizens it believes were harmed or killed through corporate wrongdoing."

Elite Trial Lawyers

NLJ and American Lawyer Media honor law firms and attorneys as Elite Trial Lawyers for their cutting-edge legal work on behalf of plaintiffs in practice areas ranging from mass torts to securities litigation.

Listed in Best Lawyers

Best Lawyers is the oldest and most respected peer-review publication in the legal profession. A listing in Best Lawyers is widely regarded by both clients and legal professionals as a significant honor, conferred on a lawyer by his or her peers.

AV Top Ranked Law Firm

Less than one-half of one percent of firms across the nation have achieved this ranking. A firm must have a high percentage of lawyers who have achieved the prestigious AV® Preeminent rating by Martindale-Hubbell®.

Verdicts Hall of Fame

The National Law Journal inducted Baum Hedlund into the Verdicts Hall of Fame for obtaining the $2 billion landmark verdict in the Roundup cancer case of Pilliod et al. v. Monsanto. The verdict was #1 in California and #2 in the U.S. in 2019 and is #9 in American history.

Super Lawyers

Super Lawyers is a rating service of outstanding lawyers from more than 70 practice areas who have attained a high-degree of peer recognition and professional achievement.

AV Preeminent Peer Review Rated

An AV® rating reflects an attorney who has reached the heights of professional excellence. The rating signifies the highest legal ability, and very high adherence to professional standards of conduct, ethics, reliability, and diligence.

Board Certified Attorneys

The National Board of Trial Advocacy is one of the nation's largest and oldest private board-certification organizations for attorneys. Two of our shareholders are certified in multiple specialties.

Top Jury Verdict in
CA and USA

TopVerdict.com ranks our $2 billion verdict in Pilliod et al. v. Monsanto as the biggest verdict in California and the second largest verdict in the U.S. in 2019. It is the ninth largest verdict in U.S. history.

Lawdragon 500 Leading Plaintiff Consumer Lawyers

Published annually, the Lawdragon 500 Leading Plaintiff Consumer Lawyers list recognizes the "best of the best" in this area of the law through nominations, research, and review by a board of their peers.

Multi-Million Dollar Advocates Forum

Multi-Million Dollar Advocates Forum is one of the most prestigious groups of trial lawyers in the United States.  Membership is limited to attorneys who have won million and multi-million-dollar verdicts and settlements.

Product Liability Practice Group of the Year

In 2020, Law360 honored the law firms "behind the litigation wins and major deals that resonated throughout the legal industry." It recognized our success in several landmark cases.

Top Personal Injury Jury Verdict in California

In 2018, our $289 million Johnson v. Monsanto verdict was the largest personal injury verdict in California. TopVerdict.com also ranked it #2 among all verdicts in California and #10 in the nation.

Bar Register of Preeminent Lawyers

The Bar Register is the definitive guide to the most distinguished law firms in America. It includes only those select law practices that have earned the highest rating in the Martindale-Hubbell Law Directory and have been designated by their colleagues as preeminent in their field.
Firm Reviews
What Our Clients Are Saying
I Can't Imagine a Better Law Firm - Best Law Firms Survey

They Are About Changing the Systems... - Kim Witczak

Top Legal Minds in the Country - From Best Lawyers® Best Law Firms

Diligent & Professional Representation - W.T.

Our Best Interest Was Always Number One on Your List - G.C. & C.C