The National Transportation Safety Board (NTSB) released preliminary findings in last month's Amtrak train crash in Philadelphia that left eight dead and over 200 others injured. Federal investigators have not found any anomalies in the train's braking system, nor any issues with the signals and track where Amtrak train 188 derailed.
On May 12, the Amtrak train was heading north from Washington D.C. to New York City when it derailed at around 9:21 p.m. in Philadelphia's north side. According to the report, the train was traveling at a speed of 106 miles-per-hour when the engineer deployed the emergency brakes "seconds before the derailment." The speed limit in the Frankford Junction area is 50 miles-per-hour.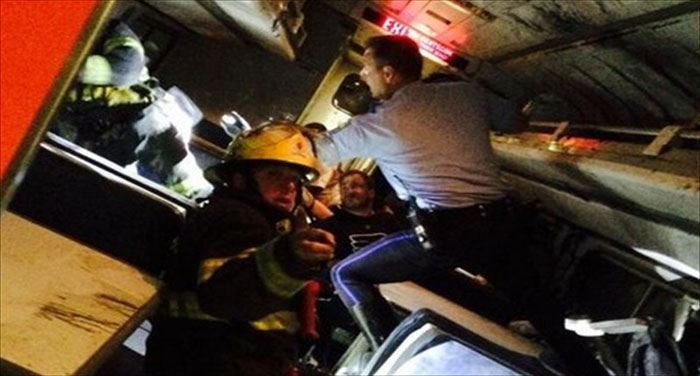 Investigators will now turn their attention to other possible factors in the crash, including cell phone usage and vandals that reportedly threw rocks at the train prior to the derailment. According to the NTSB, investigators are working to correlate time stamps on the engineer's cell phone records to see if calls and text messages occurred when the train was being operated.
The NTSB is also looking into damage to the train's windshield. Some have speculated that vandals were responsible for throwing rocks at the train around the time of the derailment. The NTSB is working with the FBI to explore the matter further.
Amtrak is estimating the damage caused by the crash to be around $9.2 million. The company said it plans to have positive train control (PTC) implemented in the Northeast Corridor by the end of the year, ahead of the current deadline imposed by Congress. Unfortunately, a section of the Metro-North rail system in New York City will not be able to meet the deadline.
Amtrak CEO and President Joseph Boardman testified before a Congressional hearing today, saying the railway is responsible for the Philadelphia crash and its consequences. According to NBC News, Boardman was pressed by the House Transportation Committee on why Amtrak failed to implement safety systems that could have prevented last month's crash. In an emotional testimony, Boardman said PTC is "the single greatest contribution my generation of railroaders can make."
There is no information presently available as to whether sudden uncommanded acceleration could be a cause for the rapid increase in the train's speed.