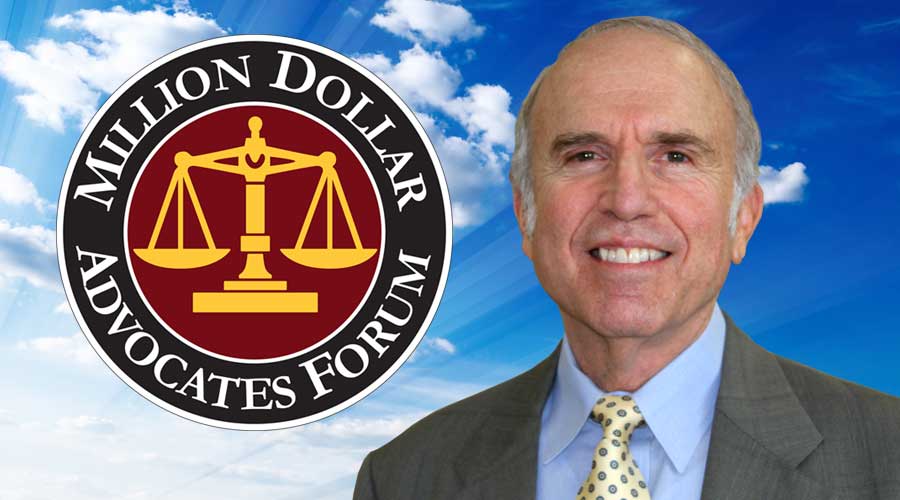 Los Angeles, July 28, 2015 – – Attorney Mark H. Schlein from Baum, Hedlund, Aristei, and Goldman has received the esteemed distinction of being placed alongside fellow top lawyers in the Million Dollar Advocates Forum®.
The Million Dollar Advocates Forum® is a highly prestigious group of successful trial lawyers from across the United States. This group of lawyers was established in 1993. Admission is strictly reserved for top lawyers who have won settlements, verdicts, and awards in the million to multi-million dollar range.
Membership is highly exclusive as the group only has approximately 4,000 members across the country, which is only 1% of U.S. lawyers. Many members are lawyers focusing on litigation in the areas of major personal injury, malpractice, environmental, business litigation, employment, insurance, construction, and product liability.
A California trial attorney created the Million Dollar Advocates Forum® for two essential purposes: the ability to recognize top lawyers who excel in their field and to give these attorneys a national network to facilitate the exchange of information and resources.
Many members, including Mark H. Schlein, are trial lawyers chosen for their ability to achieve superior results in highly complex cases. The Million Dollar Advocates Forum® provides their membership of top lawyers with recognition for their dedication and hard work along with the ability to exchange information with other well-respected colleagues, including other trial lawyers, nationwide.
Attorney Mark H. Schlein is the top false claims and whistleblower attorney at Baum, Hedlund, Aristei, and Goldman. He is a dedicated consumer advocate, trial lawyer, and member of the community. His career has spanned over 40 years and includes a long stint fighting crime as a police officer and government attorney in Florida.
In response to his admission as a new member of the Million Dollar Advocates Forum®, Mark said, "It is a great honor to be recognized among such highly distinguished peers."
For over 20 years, Mark H. Schlein worked in the Broward County Sherriff's Office where he started in the patrol division. Mark brought his hard work and ingenuity to nearly every operational division, commanding the Broward County Sherriff's Office patrol division, criminal investigations division, special operations group including homicide, S.W.A.T.,  dive team, marine unit, aviation unit,  mounted patrol and traffic.
Mark's talents were also brought to the Commission on Accreditation for Law Enforcement Agencies (CALEA) where he acted as an Accreditation Manager. His position allowed him to revise the operating policies used by the Broward County Sherriff's Office, turning it into the 68th fully accredited law enforcement agency in the country. Mark retired from the Sherriff's Office in 1993 as the Director of the Department of Law Enforcement and a lieutenant colonel in order to pursue other challenges in the criminal justice field.
Mark H. Schlein was handpicked by Florida's Attorney General, Robert A. Butterworth, in 1994 to become the Director of the Florida Medicaid Fraud Control Unit (MFCU). The MFCU is the only Florida state government division that is both a police department and a law firm. The MFCU's many accomplishments earned it national recognition in the fight against health care fraud through a set of unique techniques that helped them achieve unprecedented results. To supplement arrests and criminal prosecution, the Medicaid Fraud Control Unit used a civil enforcement strategy to help deter fraudulent health care claims.
The False Claims Act was essential in recovering billions of dollars from criminal corporate activities and abuse on the state and federal level. Mark H. Schlein led a staff of 143 people in his department, including over 90 sworn criminal investigators and 14 Assistant Attorney Generals. Their efforts led to over 1,300 arrests, hundreds of litigated civil cases, and thousands of criminal investigations.
Mark H. Schlein's success as a litigator also led to multimillion-dollar settlements in health care fraud cases. He also used his extensive legal knowledge and experience to help develop global litigation strategies for the National Association of Medicaid Fraud Control Units (NAMFCU).
After his time with the Florida Attorney General's Office, Mark joined one of Florida's well-respected law firms and practiced in the healthcare fraud and white-collar crime arena.  Mark then joined the Florida Department of Health for a brief time as Special Deputy General Counsel.
Afterward, his career brought him to Florida's Department of Financial Services. There, he provided a unique perspective as a police legal advisor.  He also served as Manager of the Major Case Squad in Florida's Division of Insurance Fraud (DIF). This special unit consists of detectives who thoroughly investigate high profile cases assigned to them by the DIF Director or Florida's Chief Financial Officer.
The Division of Insurance Fraud is a state law enforcement agency.  The staff consists of 196 people including three attorneys, 150 sworn investigators, and numerous members of the support team spread across eight bureaus throughout the state. In a recent year, DIF received 12,820 referrals and made 1,042 arrests.
Mark H. Schlein's diverse set of skills and expertise has proved to be an asset to the Baum Hedlund whistleblower protection team. With his ability to deliver a specialized standard of understanding to his clients and their cases—he has proven himself to be invaluable.
Whistleblower lawsuits, also known as qui tam actions, typically involve fraud in aerospace, healthcare, hospice care, mortgages, pharmaceuticals, securities, taxes, and defense contracts. Estimates show that approximately 10% of government spending is lost each year to fraud and abuse.  Since 1987, the False Claims Act and Qui Tam lawsuits, has enabled the U.S. Justice Department to recover $27.5 billion, with  4.2 billion being awarded to whistleblowers.  Mark H. Schlein has helped Baum Hedlund's team of top lawyers successfully litigate complex qui tam whistleblower cases.
Mark was born in New York, New York. He received a B.S. in Economics at the University of Pennsylvania's Wharton School and earned his J.D. at New York University's School of Law. He also attended the FBI Hostage Negotiation School and the Senior Management Institute for Police at Harvard. Mark is a member of the Florida and New York Bar.
He has lectured at various national seminars such as the American Association for Justice on various topics, including the False Claims Act in health care cases and hospice litigation.
Mr. Schlein is a member of various groups within the American Association for Justice including the Leader's Forum, Qui Tam Litigation Group, Products Liability Section, and Section on Toxic, Environmental, and Pharmaceutical Torts (STEP). He is also the past Co-Chair for the AAJ's Qui Tam Litigation Group.
Along with the Million Dollar Advocates Forum®, Mark is listed in The Bar Register of Preeminent Lawyers™.
Baum Hedlund Aristei & Goldman is a nationally recognized firm that represents plaintiffs with cases dealing with major commercial transportation accidents, pharmaceutical drug product liability, whistleblower claims, medical device injuries, and consumer class actions. Their offices are located in major cities such as Los Angeles, Sacramento, San Francisco, San Diego, Philadelphia, and Washington, D.C.