February 6, 2019, Chico, California – – Robert F. Kennedy, Jr., top fire trial lawyer, Diane Marger Moore of the California law firm Baum Hedlund Aristei & Goldman and the California Guild will host two town hall meetings for Camp wildfire victims on Saturday February 16 at 10:30 a.m. at the Terry Ashe Recreation Center in Paradise and at 2:00 p.m. at the Chico Guild Hall. California Guild members and the public are encouraged to attend this free event.
"PG&E's safety failures, mismanagement and negligence have destroyed the lives of thousands of Californians," says Mr. Kennedy, who is co-counsel with Baum Hedlund Aristei & Goldman in the California wildfire litigation. "It is imperative PG&E refocus its priorities and implement effective fire prevention policy and take responsibility for the death and destruction it has caused.
"The Camp Fire destroyed the homes of more than 45 Guild families," stated Bob McFarland, President of the California Guild. "The De Sabla hall was damaged, and the Paradise and Yankee Hill Guild halls were completely destroyed in the fire. The Guild has appreciated its collaboration with world-renowned environmentalist and consumer advocate Robert F. Kennedy, Jr., and we appreciate the offer by Mr. Kennedy and his associates, the law firm of Baum Hedlund Aristei & Goldman to hold two more workshops about the legal rights of everyone impacted by the Camp Fire."
Baum Hedlund wildfire attorney Diane Marger Moore, will join Mr. Kennedy at both workshops and will help the community understand their choices and answer questions such as:
How to handle insurance adjusters and claims to maximize your benefits
Why a bad faith claim against your insurance company may become your backup plan
How a civil lawsuit against PG&E can recover damages that exceed your insurance coverage
What impact PG&E's bankruptcy will have on the lawsuits
Baum Hedlund Aristei & Goldman is a top-rated California law firm with decades of experience handling complex, large scale consumer litigation. In addition to their headquarters in Los Angeles, they have satellite offices in Sacramento, San Francisco, Bakersfield, Ontario and San Diego. They have assembled a highly experienced team of lawyers and law firms to protect the rights of people impacted by the Camp Fire. Their firm obtained the huge verdict in August in the first Roundup weed killer cancer trial against Monsanto, for which The National Trial Lawyers Top 100 recently honored the trial team with a Trial Team of the Year award.
Diane is a board-certified civil trial advocate and one of the most experienced fire trial lawyers in the country. As Chief Deputy Arson Prosecutor in Indiana, Diane worked closely with fire investigation units, the ATF, various State Fire Marshals, and multiple city and county fire departments to investigate and determine the causes of fires. In her 40+ years practicing law, she has tried dozens of fire cases.
Robert F. Kennedy, Jr. and Ms. Marger Moore were among a group of attorneys who filed a lawsuit on January 28, 2019 in San Francisco State Court on behalf of 51 people whose homes were destroyed in the Camp Fire. The Paradise Community Guilds is also a plaintiff in that lawsuit for the loss of their beloved Norton Buffalo Hall.
What: Town Hall and Workshop for Camp Fire Victims. Attorneys RFK, Jr. and Diane Marger Moore will be available for press interviews before and after the event.
Who: Hosted by Robert F. Kennedy, Jr., the California law firm of Baum Hedlund Aristei & Goldman and the California Guild.
When and Where:
Terry Ashe Recreation Center at 6626 Skyway, Paradise, CA
Saturday February 16 at 10:30 AM
Chico Guild Hall at 2775 Nord Avenue Chico, CA.
Saturday February 16 at 2:00 PM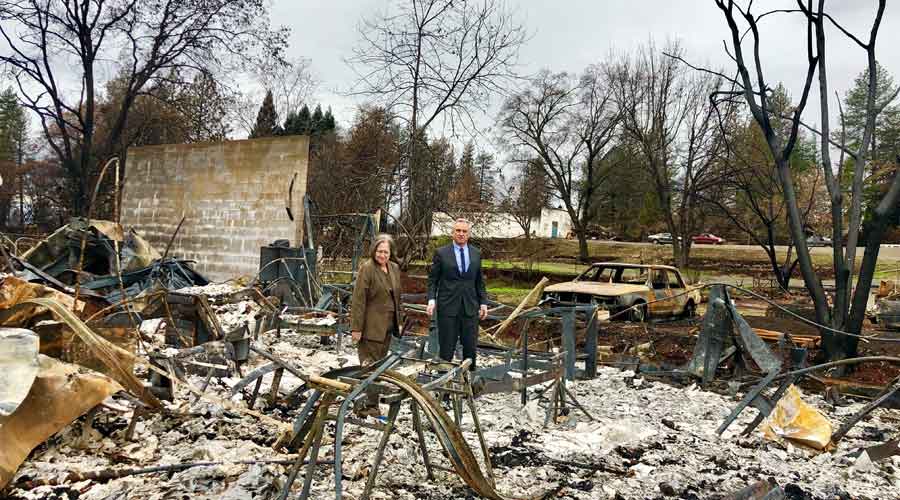 Attorneys Robert F. Kennedy, Jr. and Diane Marger Moore survey the Camp Fire damage in Paradise, California
The Camp Fire was not an isolated incident. Since 1981, PG&E's safety lapses have contributed to at least 18 other wildfires, gas explosions and electrical fires. Some of these disasters caused deaths and injuries to California residents. All these disasters destroyed or damaged property, resulting in billions of dollars in losses.
On Dec. 11, PG&E acknowledged in preliminary findings that electrical equipment near the site of the Camp Fire malfunctioned minutes before the deadliest wildfire in California history ignited. In a letter to the California Public Utilities Commission (CPUC), PG&E said a transmission line in the area "relayed and deenergized." Shortly thereafter, a PG&E employee observed fire in the vicinity of one of its towers.
Flying over the Camp fire, PG&E employees discovered that "a suspension insulator supporting a transposition jumper had separated from an arm on the tower." Notably, "PG&E observed a broken C-hook" and a flash mark "near where the transposition jumper was suspended and damage to the transposition jumper and suspension insulator." NBC Bay Area reported that the Camp Fire started "with the fracturing of a steel hook that holds up the insulators" on a nearly 100-year-old transmission tower.