On Oct. 29, 2018, Lion Air Flight JT 610 crashed into the Java Sea off the coast of Indonesia. All 189 people aboard the plane, including several children, were killed in the tragedy. Baum Hedlund represents one family who lost their loved one in this crash.
The Boeing 737 MAX 8 plane departed from Soekarno-Hatta International Airport in Jakarta at 6:21 a.m. local time heading to Pangkal Pinang Airport on Bangka, an island off Sumatra. The flight was carrying 181 passengers, six crew members, and two pilots.
Moments after takeoff, pilot Bhavye Suneja of India told air traffic control the plane was experiencing "technical difficulties" and asked to return to base (RTB). According to AirNav Indonesia, the agency that oversees air traffic control, Suneja did not indicate that there was an emergency.
Websites that track flight data show that Lion Air Flight JT 610 sped up as it suddenly lost altitude moments before AirNav lost contact with the aircraft. The commercial airliner plunged into the Java Sea at approximately 13 minutes after takeoff.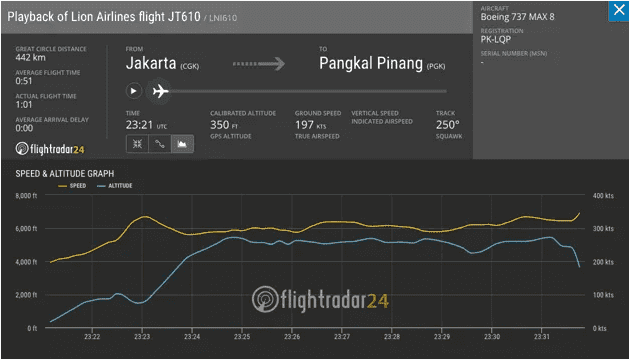 The horrific international plane crash involves the Boeing 737 MAX 8, an updated, more fuel-efficient version of the Boeing 737, the company's widely-used single-aisle jet. The Boeing 737 MAX 8, operating as Lion Air JT 610, was a nearly brand new airplane; it had been in operation since August 2018.
According to Lion Air President Edward Sirait, the plane had a "technical problem" on its previous flight from Bali to Jakarta the night before the crash but was repaired in Denpasar (Bali) before it was flown to Jakarta. "Engineers in Jakarta received notes and did another repair before it took off," Sirait told the media. "That's the normal procedure for any plane," Sirait added that the airline has no intention to ground any of the other Boeing 737 MAX planes in its fleet.
Lawyers with Experience Representing Victims in International Airline Crashes
The aviation attorneys at Baum Hedlund Aristei & Goldman are deeply saddened by the tragic loss of life in the Lion Air Flight JT 610 crash. As a national law firm representing victims of air disasters in the United States and around the world, we are closely monitoring the crash investigation. It is our sincere hope that the lessons learned from this disaster will go toward improving aviation safety and protecting air travelers.
Baum Hedlund Aristei & Goldman has represented victims in many types of international aviation accident cases, including commercial airline crashes. Our board-certified aviation attorneys have handled cases involving American companies, including The Boeing Company, Honeywell, and Rolls Royce, that sold defectively designed aircraft and parts to international customers.
Our firm has litigated international air crash cases against (among others):
Aero Mexico
Asiana Airlines
British European Airways
China Eastern Airlines
EgyptAir
Germanwings
Korean Air
Singapore Airlines
SAS-Scandinavian Airline Systems
SwissAir
TACA Airlines
We have proven time and again that we can effectively investigate and litigate international airline crashes, no matter the distance. Contact us today to speak with an experienced international airline crash attorney and protect your legal rights.
What Caused the Lion Air Flight JT 610 Plane Crash?
The cause of the Lion Air crash may not be known for months. Commercial air disaster investigations typically take a year or more to complete. Under international rules, the U.S. National Transportation Safety Board (NTSB) will assist in the investigation with technical advisors from Boeing and CFM International, the plane engine manufacturer, also participating.
An investigation into the cause of the Lion Air crash will focus on the performance of the aircraft and the actions of the flight crew. The Boeing 737 MAX 8 that crashed on Oct. 29, 2018, was delivered to Lion Air in August of 2018 and put into service immediately. The plane had surpassed 800 hours of flight time, according to reports. Two CFM LEAP-1B engines power Boeing 737 MAX 8 planes.
Flight tracking data of Lion Air JT 610 raises more questions than answers. According to preliminary data, the plane was descending at 30,976 feet per minute, which is roughly 348 miles per hour. Such speed is typical for mid-flight but unheard of during descent. Also troubling, Lion Air Flight JT 610 climbed repeatedly with varying airspeeds before it eventually plunged into the Java Sea.
"Every crash has one or more causes," says board-certified trial lawyer and aviation accident attorney Ronald L.M. Goldman of Baum Hedlund Aristei & Goldman. "Only a thorough, unbiased investigation can find them."
"This brand new airplane had apparently experienced a prior failure. Was this airplane a lemon? Was the prior fault properly fixed? Were the mechanics and pilots properly trained? Does this Boeing 737 MAX, a new iteration of the storied 737, have a dangerous design defect? These, and many other questions, must be answered to ensure the safety of the millions of passengers destined to fly on the B737 MAX." – aviation attorney Ronald Goldman
The flight crew, which consisted of pilot Bhavye Suneja and co-pilot Harvino (it is common for Indonesians to use only one name), were experienced. Suneja had accumulated more than 6,000 hours of flight time and Harvino had 5,000 hours, according to Lion Air. Aviation experts say it is peculiar that the pilots did not declare an emergency when they notified air traffic control of their intention to return to the airport. Declaring an emergency would have given the plane priority to land.
Weather conditions at the time of the flight were safe, officials said. Clouds associated with turbulence were not present and winds were light.
Boeing and FAA Issue Safety Alert Following Lion Air Crash
Eight days after the Lion Air crash in Indonesia, Boeing issued a flight crew operations manual (FCOM) bulletin for airlines operating 737 MAX model 8 and 9 planes, warning of erroneous cockpit readings during manual flight.
According to Boeing, erroneous angle-of-attack (AOA), data can trigger automatic nose-down inputs. The Indonesian National Transportation Safety Committee confirmed that the Lion Air Flight 610 pilots received erroneous AOA data prior to the fatal crash.
An AOA sensor sits outside of a plane and gives pilots a visual reading of "the angle between the oncoming air or relative wind and a reference line on the airplane or wing," according to Boeing. The instrument is vital because it warns the flight crew if the plane is flying at too high an angle of attack, which can cause an aerodynamic wing stall.
"An erroneous AOA can cause the pitch trim system to trim the stabilizer nose down," the FCOM bulletin warns. "The nose-down stabilizer trim movement can be stopped and reversed with the use of the electric stabilizer trim switches but can restart after the electric stabilizer trim switches are released. The [bulletin] directs flight crews to existing procedures to address this condition."
The bulletin emphasizes that pilots must follow specific flight crew operations manual procedures to keep the aircraft from an uncommanded descent.
Aviation accident attorney Clay Robbins III says Boeing's FCOM bulletin fails to address all possible safety issues and corrective measures from the Lion Air tragedy:
"There should be a separate service bulletin to address the AOA system failure diagnosis, repair/replacement, and any related design, software and other changes required to eliminate the problem.

This FCOM bulletin fails to describe to flight crews, operators and airworthiness authorities why this issue can only occur in manually controlled flight and not when the autopilot is engaged.Significant safety issues could be associated with this AOA system failure occurring with the autopilot engaged because whatever alerts and indications occur with the autopilot engaged may lead the flight crew to disengage the autopilot and suddenly be faced with this same runaway stabilizer trim scenario.

In short, I believe Boeing's FCOM bulletin failsto tell the whole story, which could ultimately lead to operators not being able to safely deal with such a failure when it occurs on their 737 MAX."
A day after Boeing issued its FCOM bulletin, the Federal Aviation Administration (FAA) issued an emergency airworthiness directive (AD) to Boeing 737 MAX 8 and 9 owners and operators, citing "an erroneously high single angle of attack (AOA) sensor input."
"This condition, if not addressed, could cause the flight crew to have difficulty controlling the airplane, and lead to excessive nose-down attitude, significant altitude loss, and possible impact with terrain," the AD said.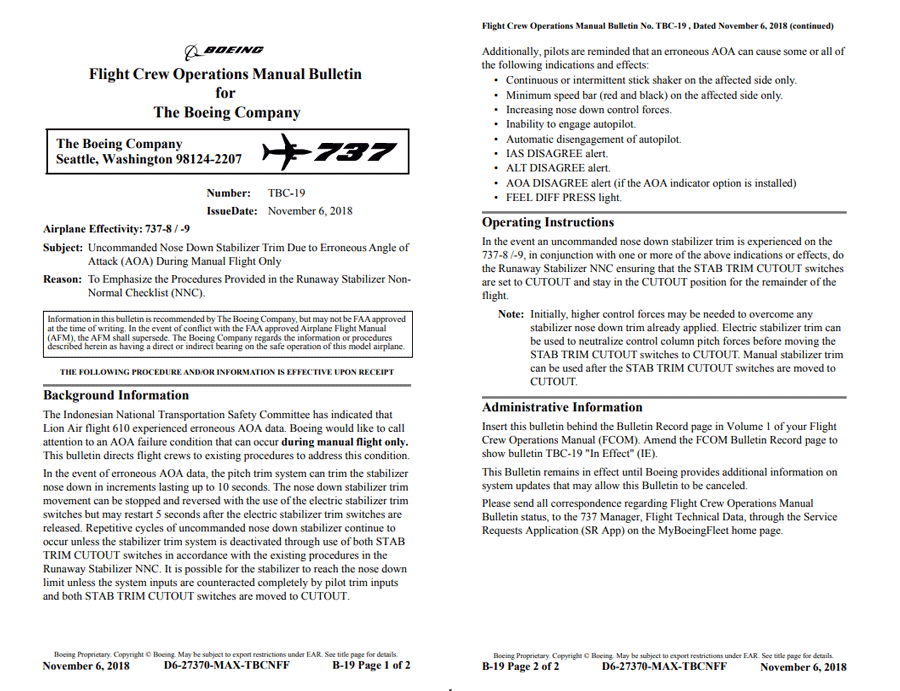 Lion Air Has Checkered Safety Record
Lion Air, a privately-owned Indonesian airline, was founded in 1999 to provide low-cost domestic and international flights. It is the country's largest airline based on passengers served and one of the largest low-cost airlines in the world.
While Lion Air has grown considerably over the last several years, the airline does have a checkered safety history. These incidents occurred prior to the Oct. 29, 2018 crash of Lion Air JT 610:
2018 – In September, two Lion Air-owned planes clipped wings on the tarmac at Jakarta's Soekarno-Hatta airport. Investigators concluded that a rushed departure caused the incident. In April, a Lion Air plane overran the runway at Gorontalo Airport on the island of Sulawesi. Source:
2017 – A Lion Air Boeing plane clipped wings with a Wings Air plane during a botched landing at a Sumatran airport.
2016 – In May, two Lion Air planes collided at Soekarno-Hatta airport. In April, a flight operated by a Lion Air subsidiary clipped a TransNusa plane.
2013 – A Lion Air plane crashed in Bali during a botched landing attempt by an inexperienced pilot who underestimated the runway. The aircraft, which was carrying 108 passengers, split into two pieces. Several people sustained injuries in the crash.
2012 – Other runway miscalculations resulted in damage to Lion Airplanes.
2011-2012 – In separate incidents, four Lion Air pilots were arrested for possession of drugs, including ecstasy and crystal meth.
2004 – The pilot of Lion Air Flight JT 538 overran the runway at Adisumarmo International Airport in Central Java, resulting in a fatal crash that killed 25 people. Investigators determined that pilot error caused the Lion Air Flight 538 crash.
Victims of Indonesian Plane Crash
Indonesia's Finance Ministry confirmed that at least 20 officials were aboard Lion Air Flight JT 610. A spokesperson for the ministry said the men were in Jakarta spending the weekend with their families before returning to their posts in Pangkal Pinang.
According to the flight manifest, the plane was carrying 178 adult passengers, one child, and two babies in addition to the two pilots and six crew members.
Lion Air officials identified the crew as Shintia Melina, Citra Noivita Anggelia, Alviani Hidayatul Solikha, Damayanti Simarmata, Mery Yulianda, and Deny Maula. One of the crew was a technician and three were flight attendants in training, per the airline.
Lion Air Crash Updates
Aviation Lawyers to Pursue Claims Over 'Unlawful' Lion Air Release and Discharge Forms | May 2019
Baum Hedlund aviation attorneys are pursuing legal action on behalf of Lion Air Flight 610 families who were pressured into signing an unlawful release and discharge forms designed to strip away their legal rights.
A few days after the tragic Lion Air crash, when victims' families were still mourning, they were told that they could receive a payment of roughly 1.3 billion rupiah (equivalent to $91,600 USD) if they signed a form.
But 1.3 billion rupiah is the bare minimum the families were entitled to receive. Worse, the form they were required to sign to secure the funds imposed "complicated and shocking" conditions that stripped away their legal rights, according to the New York Times.
Off-Duty Pilot Saved Plane a Day Before Fatal Crash | Mar. 20, 2019
An off-duty pilot, sitting in the cockpit jump seat of the Lion Air plane that crashed in Oct. 2018, saved the plane a day earlier from a similar crash. According to reports from the Indonesian investigation, on the day before the plane tragically crashed, the Boeing MAX 8 aircraft faced an identical malfunction. As the crew attempted to solve the problem, the extra pilot diagnosed the issue and prevented the plane from crashing. Among the actions the jump seat pilot told the flight crew to take was to cut the power to the motor in the trim system. That stopped MCAS from pushing the plane's nose down. The pilot operating handbook, which should contain all emergency procedures, does not have information about how to correct for the emergency created by a malfunctioning MCAS system.
A report from the Indonesia safety committee said the plane did not undergo proper repairs following multiple issues on previous flights. The crew on the flight that almost crashed, however, requested maintenance on the plane but did not report that they received a stall warning once they hit 400 feet after takeoff. It is not known whether maintenance issues could have contributed to the cause of the crash.
Lion Air Plane Experienced "Technical Problem" on Final Four Flights | Nov. 5, 2018
Investigators said the Lion Air Boeing 737 MAX 8 plane that crashed had experienced a "technical problem" with its airspeed indicator during its final four flights.
The latest development was announced after an emotionally charged press conference on the Lion Air crash investigation. Relatives of the victims confronted Indonesian transportation officials and Lion Air's co-founder, demanding answers as to why the plane had been cleared for flight.
The budget airline reportedly knew that the plane had malfunctioned on a flight the night before the fatal crash. Based on flight data from the crash, investigators were able to identify two earlier flights that experienced the same technical problem with the airspeed indicator.
Investigators Download Hours of Flight Data from Ill-Fated Lion Air Plane | Nov. 4, 2018
Officials from Indonesia's National Transportation Safety Committee held a press conference today announcing that nearly 70 hours of flight data was downloaded from one of the black boxes of Lion Air Flight JT 610.
The flight data recorder was recovered on Nov. 1 in damaged condition and required careful handling to download information. The cockpit voice recorder is still missing, though searchers narrowed their focus based on a weak locator signal.
Indonesia's National Search and Rescue Agency chief Muhammad Syaugi updated the media on the search operation, which is now in its seventh day. Syaugi said the search, which involves hundreds of personnel and dozens of ships, will continue for another three days.
According to Syaugi, more than 100 body bags of human remains have been recovered in the search operation. He noted that the number would increase as remains are now washing up on shorelines.
Officials Find Problems with Two Other Lion Air Boeing 737 MAX Aircraft | Nov. 3, 2018
Indonesia's Ministry of Transportation found faults with two Boeing 737 MAX 8 planes in Lion Air's fleet. The ministry ordered inspections on all Boeing 737 MAX aircraft operated by Indonesian air carriers following the crash of Lion Air Flight 610 on Oct. 29.
After inspecting more than half a dozen Boeing 737 MAX aircraft in the country, officials found a cockpit display problem in one plane and a jet stabilizer system glitch in another. Both problems will require new components.
Divers Find Lion Air 610 Black Box | Nov. 1, 2018
Divers found the black box containing the plane's flight data recorder, according to initial reports. The diver who found the black box said the device was underneath debris at the bottom of the Java Sea.
The other black box containing the audio recorder from the cockpit remains missing.
Search officials are continuing to look for the many victims still missing. Yesterday, family members held a funeral for the first identified victim, a 24-year-old woman who worked at the engineering ministry.
Aviation Experts Suspect Pitot-Static System May Have Malfunctioned in Lion Air Flight 610 Crash | Oct. 30, 2018
In the moments before Lion Air Flight JT 610 crashed off the coast of Jakarta, the plane maneuvered with erratic airspeed, altitude, and direction, leading some aviation experts to speculate whether a problem with the aircraft's pitot-static system played a role in the disaster.
The pitot-static system is a series of instruments used to calculate airspeed and altitude. Pitot tubes have been implicated in other air tragedies, including the 2009 Air France Flight 447 crash in the Atlantic Ocean. Earlier this year, a Malaysia Airlines flight departed from Brisbane, Australia with covers still affixed to the pitot tubes, resulting in improper readings. The airliner was able to safely return to the airport.
Experts caution that it is still far too early to know what caused the Lion Air crash. The crash investigation will likely take a year or more to complete.
Previous Lion Air Passengers Describe Numerous Issues with Plane | Oct. 30, 2018
Passengers who flew on the Lion Air plane the day before it crashed described numerous issues that occurred during their flight to the news media. According to Indonesian TV presenter, Conchita Caroline, a technical problem with the Boeing 737 MAX plane caused it to be towed into a parking space on Sunday, the day before the fatal Lion Air crash.
According to Caroline, passengers listened to an "unusual" sound coming from the plane's engine as it sat on the tarmac. Passengers became anxious sitting in the cabin without any air conditioning. Some children vomited due to the rising heat. Only when passenger anger reached a fever pitch did the staff let them disembark the plane.
Passengers also recalled when the plane dipped suddenly. "About three to eight minutes after it took off, I felt like the plane was losing power and unable to rise. That happened several times during the flight," said passenger Alon Soetanto. "We felt like in a roller coaster. Some passengers began to panic and vomit."
Soetanto's account is consistent with flight tracking data, which showed the plane erratically changing speed, direction, and altitude shortly after takeoff, similar to the maneuvering of the doomed Lion Air Flight.
Indonesia to Inspect All Boeing 737 MAX 8 Aircraft Following Fatal Lion Air Crash | Oct. 30, 2018
The Indonesian government announced today that all Boeing 737 MAX 8 aircraft in service in the country will need to be inspected following the Lion Air crash. The government stopped short of grounding the planes, however.
Lion Air has 11 Boeing 737 MAX 8 aircraft in its fleet. Garuda Indonesia, another national carrier, has one. An Indonesia Transportation Ministry official noted that the Garuda plane has already been inspected, but the official did not specify whether the aircraft passed the inspection.
Australia Instructs Government Officials to Avoid Flying Lion Air Following Deadly Crash | Oct. 29, 2018
The Australian government is urging its employees to avoid flying Lion Air after the crash of Flight JT 610.
"Following the fatal crash of a Lion Air plane on 29 October 2018, Australian government officials and contractors have been instructed not to fly on Lion Air. This decision will be reviewed when the findings of the crash investigation are clear," read a statement on the Australian Department of Foreign Affairs and Trade's website.