A Detroit-area neurosurgeon has pleaded guilty to two criminal cases claiming he collected over $11 million in fraudulent Medicare claims and caused serious bodily harm to patients who were forced to endure medically unnecessary surgeries. Dr. Aria O. Sabit, 39, pleaded guilty last Friday to four counts of health care fraud, one count of conspiracy to commit health care fraud, and one count of unlawful distribution of a controlled substance at a hearing before U.S. District Judge Paul D. Borman of the Eastern District of Michigan. Sabit, a Birmingham, Michigan resident, will be sentenced on September 15.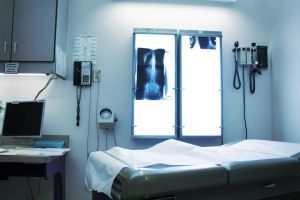 According to the Justice Department, Sabit owned and operated the Michigan Brain and Spine Physicians Group, with locations scattered throughout the greater Detroit area. He admitted to fraudulently obtaining significant profits by convincing his patients to undergo spinal fusion surgeries using medical devices designed to stabilize and strengthen the spine. Many of these surgeries didn't include the use of medical devices, but that didn't stop Sabit from billing Medicare and Medicaid for fraudulent surgeries.
Sabit admitted that his operative reports contained false statements concerning the procedures he was performing, as well as the instrumentation he used. He further admitted to billing for implants that were never actually provided.
Before Sabit moved to begin practicing in Michigan, he was involved in a physician-owned distributorship (POD) called Apex Medical Technologies while on staff at a California hospital. During this time, Apex paid out kickbacks to physicians who performed spinal surgeries and used their devices. Sabit admitted to the Justice Department that he convinced his hospital to buy Apex products in exchange for the opportunity to invest in the company and share in its profits. This conflict of interest caused Sabit to think more about profit than the wellbeing of his patients. In fact, he admitted to using more Apex devices than he should have in surgeries, which resulted in serious injuries to his patients.
This case is a tragic example of a doctor forsakes the Hippocratic oath and puts profits over the health and safety of his patients. It also demonstrates some of the inherent conflicts that can exist in PODs. If you have firsthand information concerning health care fraud or misconduct on the part of doctors involved in a POD, contact a whistleblower attorney to discuss your options.