Make room JPMorgan Chase, Bank of America and CitiGroup; Morgan Stanley is the latest Wall Street firm to reach a settlement with the government to "resolve certain claims" related to the mortgage bubble and subsequent financial collapse in 2008. The Justice Department announced today that Morgan Stanley will pay $2.6 billion to settle claims related to the bank's mortgage division.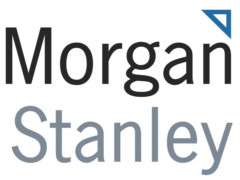 According to CNN, Morgan Stanley packaged bad loans into mortgage-backed securities and then misrepresented their risk to investors. The settlement represents the largest sum the financial institution has paid in connection with the 2008 financial crisis. Morgan Stanley had previously reached a smaller settlement in 2014 when it agreed to pay the Federal Housing Finance Committee $1.25 billion over mortgages it sold to Fannie Mae and Freddie Mac.
Today's settlement has not yet been finalized, and according to a Morgan Stanley regulatory filing, the deal could still fall through. Earlier this year, the New York bank reported that it had earned $2.95 per share for the full previous year. The settlement with the government will eat into roughly half of what Morgan Stanley made last year, on a per-share basis.
Several Wall Street banks have reached settlements with the government over the last two years over claims that they grossly misrepresented the volatility of subprime mortgage bonds to investors. Bank of America reached a massive settlement with the Justice Department last year worth $16.7 billion, while JPMorgan Chase settled in 2013 for $13 billion.
Goldman Sachs, another large financial institution, is still in the process of working out settlement terms with the government. Like Morgan Stanley, Goldman reached a settlement with the Federal Housing Finance Committee last year over claims that it misrepresented the quality of mortgages sold to Fannie and Freddie. That settlement came in at $3.15 billion.
Last week, Attorney General Eric Holder gave federal prosecutors 90 days to decide whether they can bring charges against individuals who played roles in the 2008 financial collapse.
One can only hope that justice will be done.