As the information on the Asiana crash continues to pour in, the biggest question most of us are asking is how did this happen? Others might find themselves wondering: "what would I have done if I were on that Boeing 777 on Saturday?" "Would I have helped my fellow travelers?" "Or would I have run for the exit as fast as I could?" When you hear stories from the survivors of Saturday's crash at San Francisco International Airport, they all seem to share a similar thread: the courage and poise of those in the cabin crew was a bright spot on an otherwise dark day.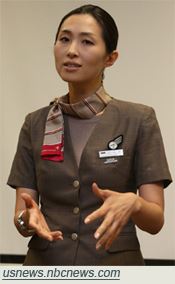 Cabin manager Lee Yoon-Hye knew something was wrong when she heard a loud bang as the plane initially touched down. "That bang felt harder than a normal landing," she told reporters the day after the crash. "It was a very big shock. Afterward, there was another shock and the plane swayed to the right and to the left." Her shock did not deter action, however, as she knew precisely what to do after an evacuation order was given. "I wasn't really thinking.  My body started carrying out the steps needed for an evacuation. I was only thinking about rescuing the next passenger."
Lee was calm and collected, even when she noticed a fire had broken out on the plane. "I was only thinking that I should put it out quickly," she told reporters. "I didn't have time to feel that this fire was going to hurt me." On top of battling the blaze in the plane, Lee was seen carrying people much larger than herself off of the plane. "She was so tiny and skinny, I couldn't believe how powerful, how strong she was," said Asiana passenger Eugene Rah. The same courage under pressure was observed in Kim Ji-Yeon, another Asiana flight attendant, who slid down the plane's emergency slide with a terrified young boy on her back.
Lee told reporters she was the last person off the plane. She did all of this, by the way, with a broken tailbone (she answered questions from the media standing up because sitting was painful). "She wanted to make sure that everyone was off…she was a hero," said San Francisco Fire Chief Joanne Hayes-White of Lee's efforts.
Heroes are what we need to hear about in the aftermath of a tragedy. They restore our faith in the human condition – that in time of great need, seemingly ordinary people are able to do extraordinary things by putting others before themselves.